Hamburg is one of the most amazing cities in Germany. I consider myself very lucky that I have accidentally landed here three and a half years ago, and stayed. Hamburg is an international, open-minded city with a long history and truly amazing sights. Today I call this city my home. Very often my family and friends from abroad come for a visit. Every time someone says that they are coming over, I have to plan their stay and a tour of the city. So, I decided to put together a list of my favorite places and best sights in Hamburg that are a must see during a first visit. Feel free to use this list for planning a stay for your guests in town!  Or use it to get some ideas for your own stay in this amazing "Hansestadt".
Where to start? What are the must-see spots of Hamburg? From my point of view it is quite obvious, isn't it? Hamburg is famous for its port, the second largest in Europe. So, why not to start directly at the harbour?
1. Harbour / Landungsbrücken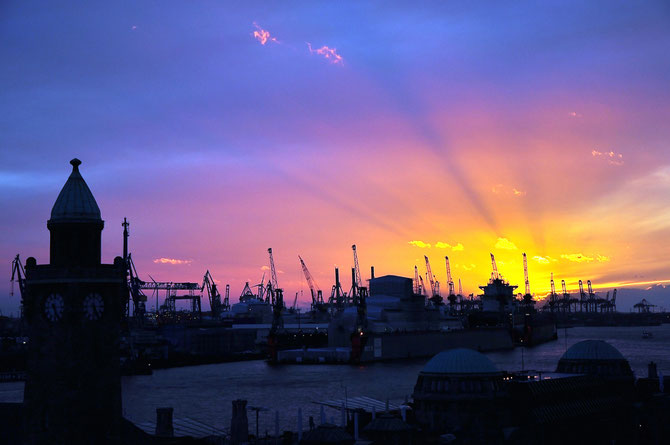 The best viewing point that you can also reach with public transportation (S3, S1, U3 and buses 111) is Landungsbrücken. Already when exiting the station you will get to see what Hamburg has to offer: an always moving river Elbe, small boats (or even big ships if you are lucky) cruising the water, harbor cranes, old anchored ships, beautiful old buildings and a lot of people. Be sure to plan at least an hour to take lots of pictures! Great time going to the port is at sunset or sunrise for a chance of an awesome, colourful sky. It all depends a lot on the weather, but who knows, maybe you will be lucky!
From here you can take a boat tour that will cost you a fortune and takes only an hour. Or, if you have a daily ticket for the public transportation you can take a free ride on a harbour ferry. 
If you want to stay on the ground, or even go underground, make sure to visit "Alter Elbtunnel". It is a tunnel connecting two shores of river Elbe and is located at Landungsbrücken. It was opened in 1911, and is an example of incredible German engineering. Today "Alter Elbtunnel" is open for visitors, and I highly recommend it. If you cross Elbe and come up on the other side, you will enjoy an amazing view on Hamburg. Don't be surprised to see cars in the tunnel, because it is still in use with a switching one-way road system.
2. Fish market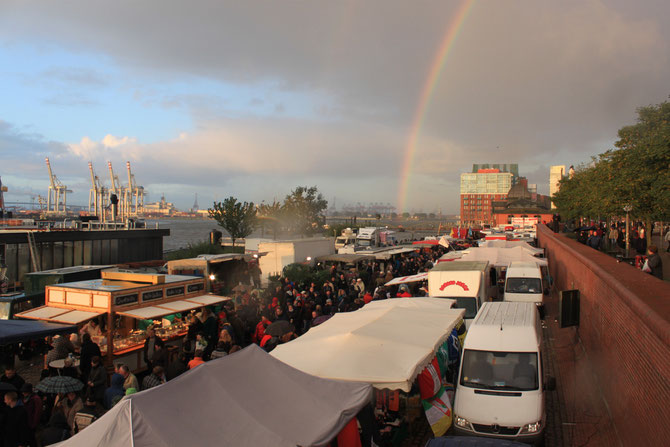 If you are a morning person and happen to be in Hamburg on a Sunday, don't miss the famous Fish Market! A 10 minute walk from Landungsbrücken or Reeperbahn station will take you directly to one of the most fascinating and famous markets of Germany. It takes place place every Sunday from early morning (4:30 in Summer time) till 9:30 am. That's why a lot of people head straight there right after a night of partying at the night clubs and bars of Reeperbahn (we'll get to this one later in the post).
The atmosphere of the Fish market is pretty cool, and you can buy vegetables, fruits, chocolate, clothes and, of course, fish there. Make sure to try one of delicious "Fischbrötchen": fresh fish or shrimps, served in bread roll. They help greatly to fight hangover ;)
3. Speicherstadt and Hafencity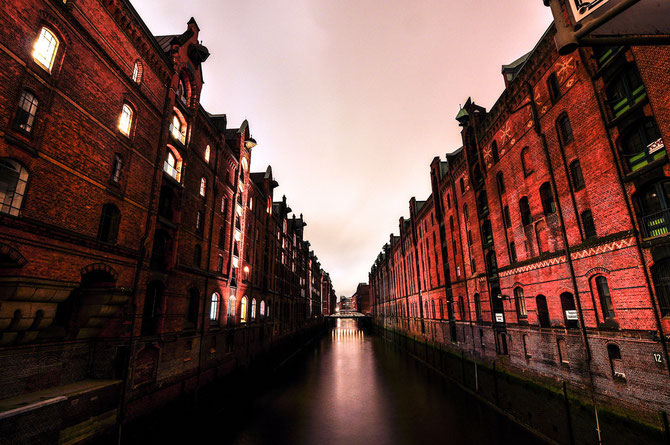 Speicherstadt is an area of Hamburg, which could be literally translated into English as "City of Warehouses". These fascinating red-brick buildings used to serve exclusively as storages for port businesses. Today this beautiful area in the city center is a major tourist attraction and one of the nicest areas for a walk or a boat trip. Canals, bridges and red buildings create a perfect setting for amazing photos!
You can also do a lot of things around Speicherstadt: visit museums, like the Miniaturwunderland, the Hamburg Dungeons, the Customs Museum, or make a break at the Speicherstadt Kaffeerösterei, cafe and shop with the most amazing coffee. So far, all my guests were in love with this place, and especially with the smell of freshly roasted and grinded coffee beans.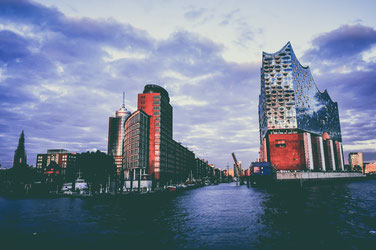 Hafencity is a district of Hamburg, located or actually directly connected to the Speicherstadt. It is the most modern and urbanistic part of the city, and is one of the most ambitious building projects in Europe. The whole area is built where water used to be. You can see there canals, office buildings, living quarters, shops and the newly constructed Hamburg University. You can also find there a building that is included in the top ten most expensive constructions of the world — Elbphilharmonie. It's not finished yet, so who knows: maybe soon we'll be looking at the most expensive building in the world.
4. The City Hall of Hamburg and shopping streets around it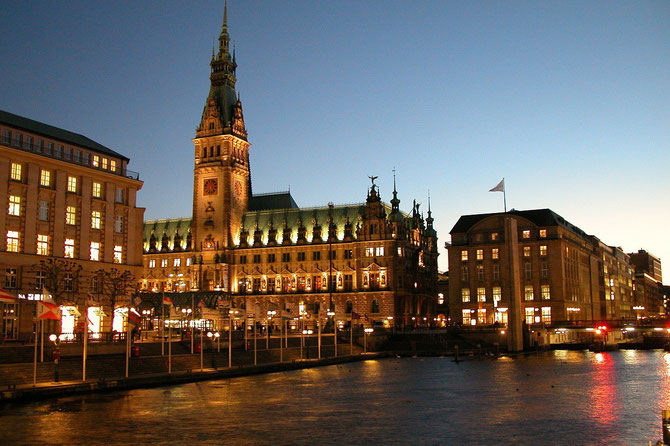 The "Rathaus" (or city hall in English) of Hamburg is one of the most beautiful ones in Germany! Make sure to admire it not only from the square in front of it, but also from the inner yard with a fountain. Also, if you have enough time, take a tour through the inner rooms of city hall. They are truly impressive! The entrance fee is just €4. To better plan your day check out the schedule of the tours (in German) and make sure to buy tickets in advance. 
Mönckebergstraße and Neuer Wall are the two main shopping streets of Hamburg. The only difference between them is that the first one is where ordinary mortals shop and the second one is where you go for windows shopping. Neuer Wall is the shopping street in Hamburg for luxury brands. 
Even if you are not planning to go shopping in Hamburg, I still advise you to walk through these streets. It's not just stores and cafes that you find there: historical buildings, churches, and beautiful shopping passages (Hanseviertel, Levantehaus) are so worth to see them.
5. Portuguese Quarter and Church St. Michaelis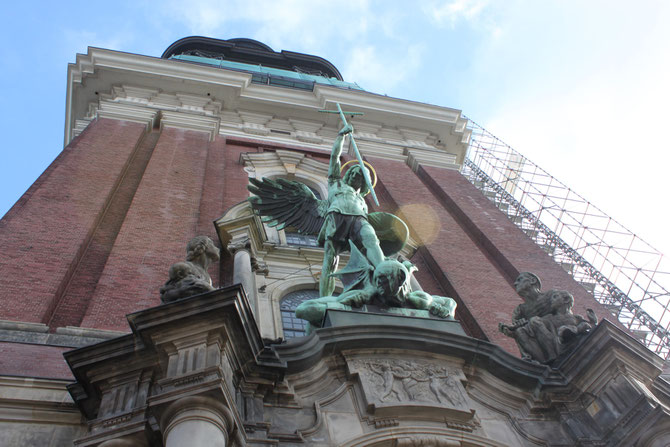 Hamburg is and always has been an international city. Trade with different regions and countries led to the incredible cultural mix that Hamburg has to offer today. Portuguese Quarter is probably one of the most popular examples of international influences in the city. It is a street not so far away from Landungsbrücken that stretches up into the city right to Hamburg's key landmark, the St. Michaelis (St. Michael's) Church.
Just over the entrance of the main church of Hamburg you'll see an incredible sculpture that gives me goosebumps every time I see it. The scene of St. Michael defeating the devil is shown in a very realistic way. Inside the church there are often concerts, but it is also open for visits during the day. It's white and beautiful, so don't be shy and go in.
Down the road towards the Portuguese Quarter you'll see more international sides of Hamburg, passing by the Danish, Norwegian, Finnish and Swedish churches. The last one is on the opposite end of the street. Finally, you'll reach the Portuguese Quarter with its nice and not-so-nice restaurant. It's a touristic place, so some places might be overpriced and not so great for eating. Check the reviews on your trusted sources before you've pick one. 
6. Parks of Hamburg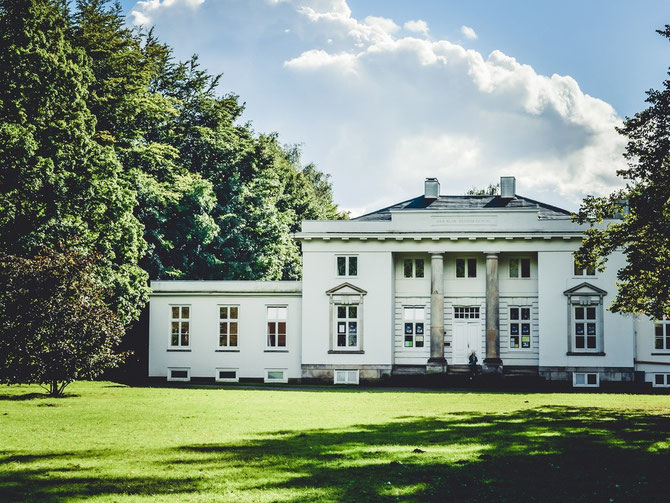 Hamburg is a green city and has a lot of parks. Most of them are of course only enjoyable during the warm season, which starts in Hamburg really early. It's a fun part about this city — the moment it stops raining and a bit of sun shows everyone is getting outside to enjoy the weather. 
Hamburg is all about water, and it's amazing! Alster is a river with a lake in the very city center and with its canals stretching up till the North of Hamburg. During the nice days the parks and walkways around Alster are full of people. 
There is a smaller part of the lake "Binnenalster" and a bigger one, called "Außenalster". From the bridges that separate these two part you get the most incredible view of Hamburg's fancy buildings and Jungfernstieg. If the weather is amazing and you have a lot of time, take a walk on the outside, bigger part of Alster. There you can fancy expensive houses and see the nature right in the heart of the big city.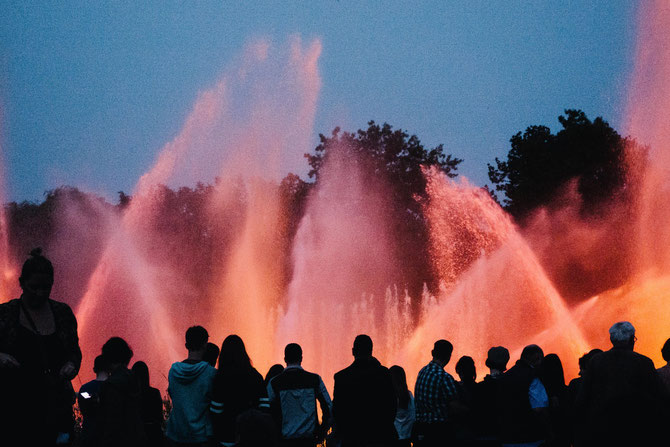 The name of this park speaks for itself — Plants and Flowers. It is one of my personally most favorite spots in Hamburg. This park has so many different corners, from Rosarium to Japanese Garden, so you feel like you are walking in many parks at the same time. There are also greenhouses with tropical plants, Sunday afternoon concerts, cafes and, of course, ponds and water fountains everywhere. Every evening in summer you can see a musical water show. It is an incredible thing to see. Take a look at the schedule (in German), and make sure to bring a plaid and something warm to wear.
The Botanical Garden
Is another place to admire pretty flowers and plants that are cultivated and taken care of by professionals. It is really easy to reach by public transportation taking S1.
Other parks 
Hamburg has a lot of green spots. There are even tiny parks almost in every neighbourhood of the city. Just check it on the map! There are also huge parks, almost forests in Hamburg, but they are located a bit outside of the city center. If you stay in Hamburg nearby these places or have a lot of time and love nature, don't miss these parks: Stadtpark, Volkspark, Jenischpark and Niendorfer Gehege. All of them are super easy to reach by public transportation.
If you are into something more mysterious, go ahead and check the Friedhof Ohlsdorf (Ohlsdorf Cemetery), the biggest rural cemetery in the world. As an alternative have a picnic, or even grill with your friends at Wohlers Park, which used to be an old cemetery. Today, it's a cool, very green and quiet park not so far away from the city center. I love to chill there on hot days. It's a bit freaky in the beginning, but with the time you start to like this strange place. 
 7. Blankenese, Treppenviertel, Elbstrand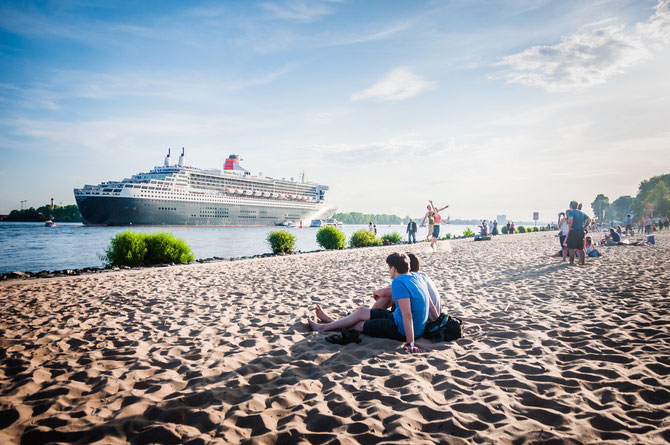 They say that Blankenese is one of the rich areas of Hamburg. Away from all the city hustle and close to the bank of Elbe, it is indeed a very nice location to live. Behind the shopping streets and houses around the train station Blankenese, one of the cutest spots of Hamburg is hidden: Treppenviertel (Stairs Quarter). Narrow long stairs that take you directly down to Elbe are located between small old houses. 
If the day is nice, stay on the beach (Elbstrand) and enjoy the weather with a drink from a beach bar. With a bit of luck or proper planning you will be able to see some of the big ships going in and out of the port.
8. Party time: Reeperbahn and Sternschanze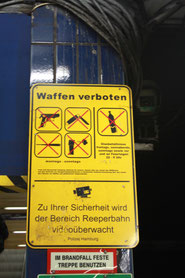 Attention party people! Now we are talking about the party districts of Hamburg. Reeperbahn was a place for seamen to have their fun before departing into the sea again. Cheap alcohol, sex for sale, junk food… well, it seems like nothing has changed since the old times! Reeperbahn is the reason why so many bachelor and bachelorette parties are coming to Hamburg. If you want to drink and have fun, this is your place. 
I personally prefer less crazy places to hang out and choose Sternschanze, which is located not so far from Reeperbahn. I believe, bars there are more decent and the atmosphere is nicer. At the same time, I am always taking my guests for a walk on Reeperbahn at night, because it's a must-see in Hamburg. Also at day time, for example to Beatlesplatz, a small square dedicated to the famous band.
9. Altona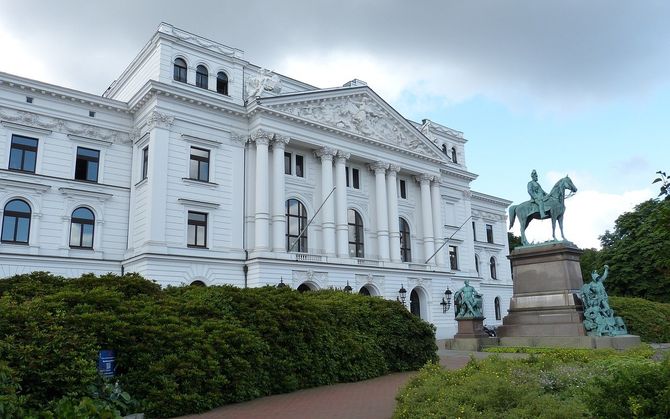 Altona is another neighbourhood of Hamburg that has an amazing history. Just imagine: there were years, when it belonged to Denmark! Today it's a place to have a coffee, or a nice meal, or hang out at the bars. 
Behind the municipality building there is a park, from where you definitely get the best view of the harbour. Because it's on a hill, you can see far behind the first line of port equipment and observe the harbour work at any time of the day, since it never stops.
10. Last, but not the least: German food and drinks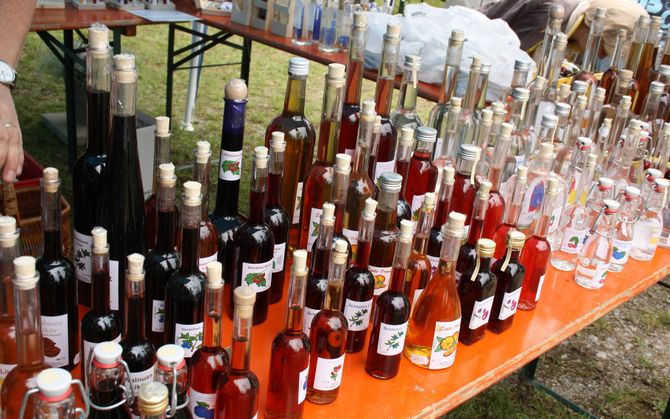 All of my international guests want to have German beer and try German food. They also want to experience the atmosphere of Oktoberfest with its wooden long tables and benches. There are two places where I take them for this: Gröninger, which is a private brewery with a nice beer, and Hofbräuhaus, a chain of beer houses from Munich. It seems like my guests prefer the first one for the beer, but Hofbräuhauses (there are two in Hamburg) are better for the food.
Hamburg is amazing. I am truly in love with it! As long as I live in Germany, I want to settle in Hamburg. So, hey, come and visit me here and enjoy this gorgeous city! Please let me know when you are coming, I would love to show you around or go for a beer. If I am not travelling, of course! :)
My other Hamburg-related blog-posts that you might like:
---
Hi, I am Maria, blogger and founder of Globalmary.com.
I was born and grew up in Russia, studied in Sweden and now live in Hamburg, my most favorite city in Germany. I travel a lot and write about places I've been to. I share my best travel tips and experience about what it means to live a global life!
---
Did you like this article? Share it!