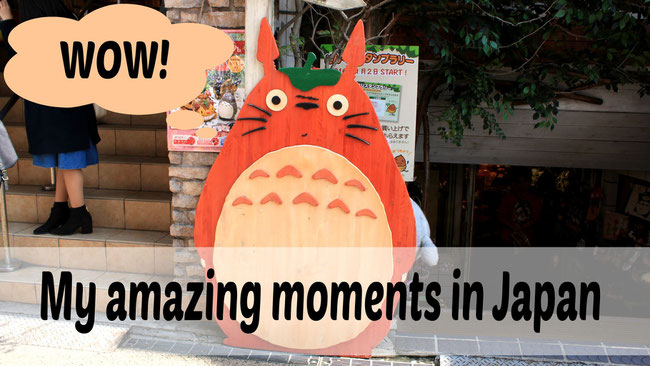 Everyone knows that Japan is different, even mysterious and sometimes crazy. I have fallen in love with this country, because of its rich and fascinating culture, beautiful nature, delicious food, polite and friendly people. But not only! I had so many "Wow" moments and unusual things happening to me in Japan.  At one point I started to wonder if all that was really happening to me. I was lucky to experience this beautiful country the way I did! Here are my 15 most incredible moments of Japan. I hope you will have fun reading my post!
1. Being in the middle of Shibuya Crossing
The Shibuya crossing is probably the most famous crossing in the world! In between high buildings masses of people and cars are moving in all directions — it seems like chaos, but everything has its order. Watching the Shibuya crossing from one of the cafes is fun (check out my timelapse video below!), but walking there is an unforgettable experience. Already when you stand in the crowd of people and wait for the traffic light to switch green, you see a large number of people gathering on the other side in front of you. And then you walk. So many people walk beside you and towards you. Just keep calm and carry on. It's fun!
2. Taking pictures in a photo box like a Japanese schoolgirl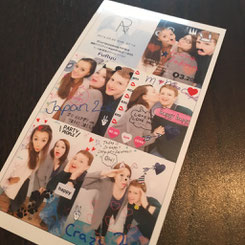 Christina, the half-Japanese cousin of my husband was showing us around Tokyo, and she took us into an arcade house in Shinjuku. Already just going in there is an adventure, but then we discovered the photo boxes! We went through a giggling crowd of schoolgirls and found an empty box. We threw in 400 Yen, set up the backgrounds and started to take ridiculous pictures of ourselves with huge eyes, perfect skin and cherry lips. The amusement wasn't done there — afterwards we could decorate the pictures, change hair and eye color, and even add a bit of make-up. Do that if you have the chance!
3. Toilets in Japan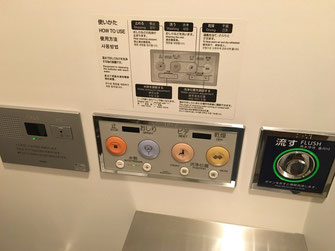 Toilets in Japan are something special, I have heard about that before, and the first one I saw was at the airport right after we landed. There are buttons changing music, seat temperature, running water… well, you know. But that's not the best. In the big shopping malls the toilet rooms look amazing. There are toilets, of course, areas for washing hands, areas for checking up make-up and even just for sitting around and resting. These make-up sections look like the backstage of a most fashionable catwalk! I was so busy enjoying myself in there that I have not taken any pictures at all.
4. Experiencing the quietness of streets in Tokyo
Have you ever been in the city center of London, Moscow or Bangkok? It's loud out there! The noise of traffic is sometimes unbearable. Tokyo is the opposite. The streets are quiet, and not because there are no cars. There are many. It's just they are mostly electric or hybrid, so there is almost no noise pollution. A couple of times I was scared by a car coming from the back, because I didn't even hear it. Tokyo, unlike many other big cities, didn't exhaust me. 
5. Being on Japanese TV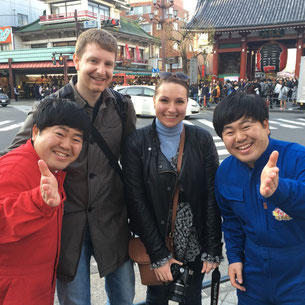 We were just three days in Japan and were heading to Senso-ji in Asakusa, when a young girl approached us and asked in English if we had a bit of time. She said that two famous comedians are testing the Google Translate App with foreigners for their TV show. So, they wanted to have an interview with us. It was hilarious: they were saying things in Japanese, we — in English, and the app translated it. The funniest part, though, was that the passers-bye were taking pictures and filming us. Apparently, according to my Japanese colleagues, these two guys are really something in Japan! 
6. Being absolutely obsessed with sakura
Sakura, or cherry blossoms, is a huge part of Japanese culture. The Japanese admire these beautiful trees that explode with colour every year, and they do it with passion! It is called Hanami, or flower viewing. They pay respect and express love to nature by admiring the beauty of the flowers and blossoms. They picnic under the cherry trees, take uncountable amount of pictures of and with sakura and just enjoy the coming of spring. I became so obsessed with that too! We had picnics with delicious bento boxes in parks under the trees, and it was so relaxing. I think I have taken pictures of all cherry blossoms and flowers that I have seen. Literally, all of them! You can find a lot of them and also other pictures by me from Japan on Barn Images, a collection of free photography. And you can use them for free! (More images are coming in the next days)
7. Staying at a Ryokan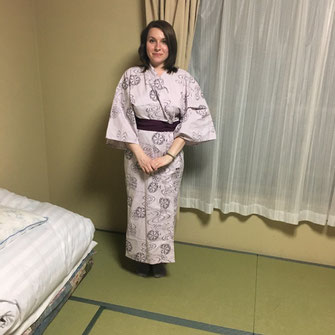 Staying in a traditional Japanese guest house was awesome! Even though the room was very simple, the toilet and the shower were shared and located on the ground floor of the building, I still felt really fancy there. Our beds were rolled in the corner, green tee was waiting on a small table and our Yukata (Japanese cotton dresses) were lying in a special box. It was unusual to sleep on the floor, but it worked well for me. If you ever plan to stay in a Ryokan in a small town on the Pacific coast, be sure to book it with a rice and fish based dinner. Why? Read further :)  
8. Having traditional dinner in Ryokan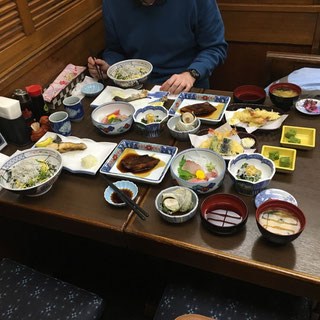 This was literally one of the best dinners of my life! When we arrived to the restaurant of our Ryokan, the staff was already waiting for us. We were brought to our table and offered herb tea. Then a bowl of rice, miso soup and a plate of sashimi arrived. It all looked familiar and was something we have tried before. We thought that was it, but then more small plates started to arrive from the kitchen. In the end we had a table full of exciting, unusual food we have never tried before. It was delicious, beautiful and very surprising! We felt treated like members of an emperor's family.
9. Taking Onsen
Onsen, hot springs, used to described a traditional Japanese bath. The water is around 40C and is full of minerals. Going to the Onsen is one of the greatest pleasures I have ever experiences. It is warm, relaxing and healing. So, frankly speaking, I could take it everyday. Going to the Onsen is a very traditional Japanese custom, so, naturally, there is a very precise etiquette for it. This website explains greatly how to take a Japanese bath: http://www.onsenjapan.net/onsenbasics.php
10. Feeding deers in Nara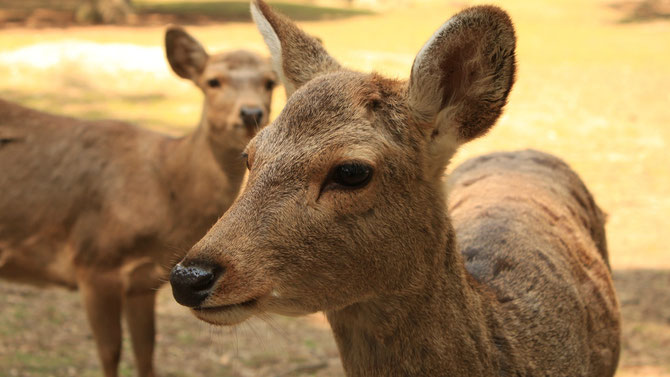 Nara is famous for its park and deers, which freely walking around temples and streets. At first, I saw only a couple of animals, sitting around a temple. The more we went into the park, the more deers we saw, and the more tourists feeding them with special crackers. We also bought some for later. We had our bento boxes with our lunch with us and wanted to eat them sitting on a bench in the park. As soon as we sat down, there they were. The deers! They sniffed the crackers in our bags. If you know how to feed them, you can make them bow. The deers are really cute and not afraid of people, they are cheeky and will stare at you or follow you until you give them what they want — crackers.
11. Seeing the city of the future at Kobe port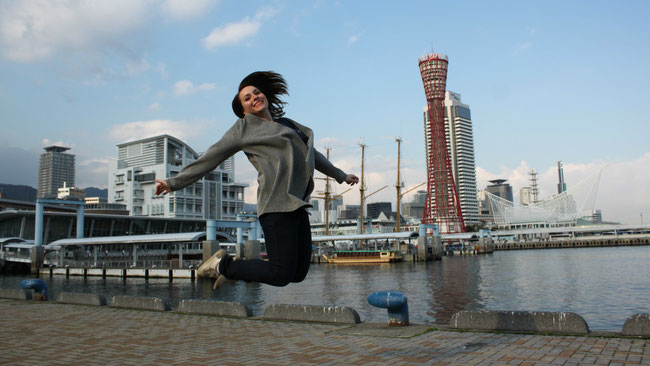 When I saw the view of Kobe from its port, I was so surprised! There, in front of me, was a landscape of a city of the future just how I imagined it when I was small. I spent just half of a day in Kobe, but I really liked it. The port is not far from the railway station, so if you have a chance, visit Kobe and its magnificent bay area.
12. Feeling really special all the time!
As a customer, you are respected a lot in Japan! It is very important for Japanese that when you leave the shop / restaurant / museum, you are 100% satisfied. Japanese politeness is world famous and it makes you feel really special. In the case of the customer - salesperson relation the hierarchy is playing a huge role. I can't say I wasn't feeling strange once in a while. However, it's also really helpful sometimes. When you ask random people on the street for a way, even if they don't speak English, they will find a way to explain you, or bring you there in the worst case. We had an experience with a guy who advised us a wrong train, who then realised it and hopped off the train together with us, in order to make sure that we catch the correct one! 
13. Seeing a maiko in Kyoto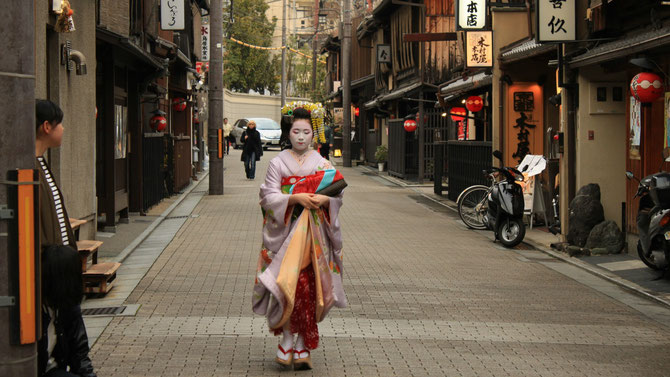 When we went to Gion, the geisha area in Kyoto, I didn't really hope to see a geisha. I couldn't imagine that they are walking on the streets just like that. I have read that you might get a glimpse at one, when she's passing by in a cab, that's it. So, I was pretty shocked when I saw one walking really fast in my direction from one of the small streets. Luckily, I started to take pictures of her automatically, before she was gone! She was magnificent! Afterwards I realised that she was a maiko, an apprentice, but that doesn't mean I treasure that moment less. :)
14. Making my own sushi at Mayuko's Little Kitchen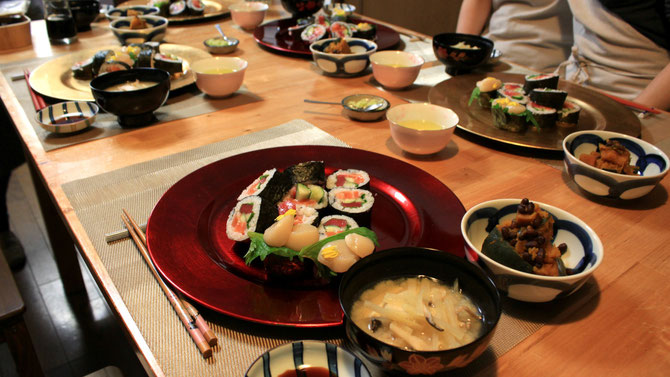 I have found Mayuko's website when I was searching for some unusual things to do in Tokyo and found an article, where among others was a reference to the private cooking class. I love sushi and I always wanted to learn how to make them, so I booked it immediately! The class was so much more than just learning how to make sushi and eating them. Mayuko, our teacher, was so knowledgeable about Japanese cooking culture and traditions. She has told us a lot about ingredients, where they come from and how Japanese like to use them. She has also shared a lot of customs of her family and really made us feel like at home. We made amazing, incredibly tasty Japanese dinner and, of course, ate it. I recommend Mayuko's Little Kitchen to anyone who wants to experience Japanese hospitality, learn a lot of new interesting facts about food and, of course, make and eat some great meal!
15. Seeing Mt. Fuji on the last day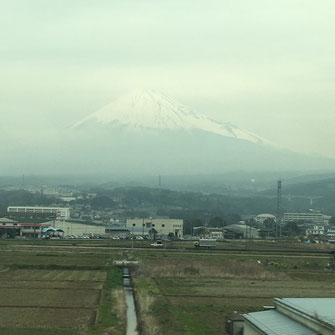 We hoped to see Mt. Fuji from one of the high buildings in Tokyo, from the sea coast of Kamakura and from the closest point we could get — Fuji-Hakone-Izu National Park. No luck, because of the weather! I was upset, since seeing Mt. Fuji was something I had been looking forward to. And then when I was least expecting it — I turned my head and saw the Fuji-san through the window of Shinkansen! It was our last day in Japan and I couldn't believe that we got lucky. It was a fantastic feeling! 
I loved Japan, and I will definitely go back again. I have never had any negative experience, and felt super safe and welcomed all the time. Food, people, history, nature, just the way things are have made a perfect trip for me! Have you been in Japan? What were your wow's and highlights? Let me know in the comments! 
---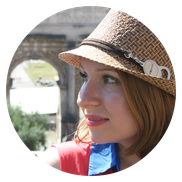 Hi, I am Maria, blogger and founder of Globalmary.com.
I was born and grew up in Russia, studied in Sweden and now live in Hamburg, my most favorite city in Germany. I travel a lot and write about places I've been to. I share my best travel tips and experience about what it means to live a global life!
---
Did you like this article? Share it!