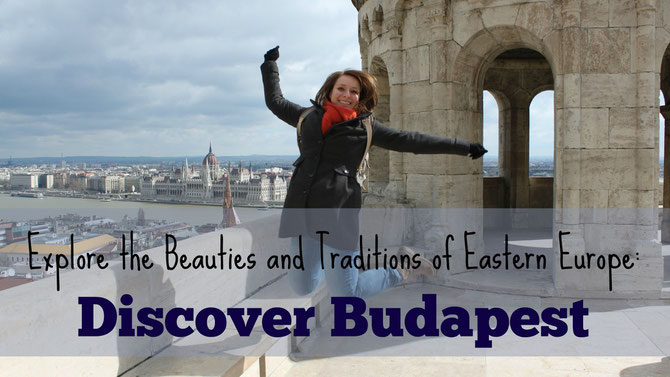 If, just like me before, you think about Budapest as a capital in Eastern Europe that you want to visit, but, maybe, next time, stop it. Stop it immediately. Read this post, pack your stuff and just go to Budapest! The Hungarian capital is a great place to do some awesome sightseeing, experience the rich European culture, treat yourself to some great food and just relax. 
I have to admit that Budapest was never my first choice for a destination, even though somewhere in the back of my head I always thought about going there. I didn't know much about that city, except that my dad had visited it when I was a baby. They eat goulash, their parliament is probably the most photographed building in the whole country and if I went there, I would probably not understand a word. We booked flight tickets absolutely spontaneous and completely by chance, but I am sooo glad we've done it. I really liked the city and I would definitely go there again. This time I know for sure what I would and wouldn't do in Budapest. 
Budapest, let's do it again!
When I go to Budapest once more, I will definitely do everything from this article again. And if you are just thinking about visiting the Hungarian capital, this can be a great list of best things to do and see in Budapest.
1. The Budapest State Opera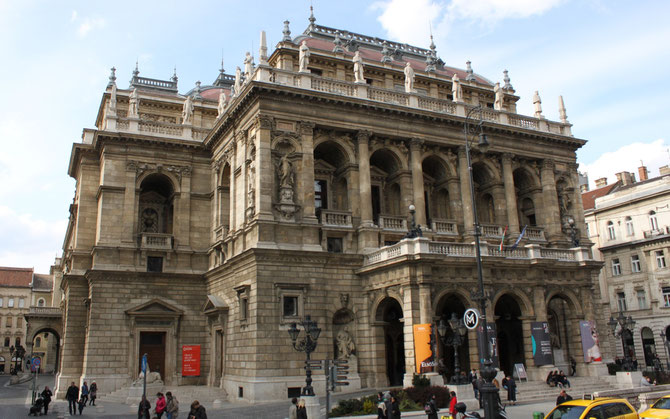 A hint: if you want to go to the opera house itself, pay attention when booking tickets on their website — some of the performances take place in other theaters.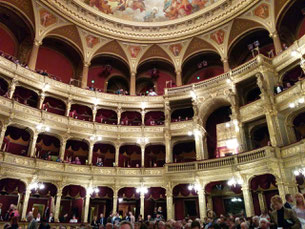 A big yes to the Budapest State Opera. I would most probably choose something else than Wagner to see though. Parsifal, the opera that we've seen, is just really too long (four and a half hours!) and too heavy. I think only true fans of Wagner can handle it. However, even if you are not an opera lover, visiting the building for its beauty is definitely one thing to do. It belongs to the most outstanding opera houses in the world. It has remarkable interior and a wonderful architecture. An opera visit is also a great occasion to dress up and feel fancy. Tickets to the performances at the Budapest State Opera are really not expensive, so you can treat yourself to some really fancy seats!
2. The Fisherman's Bastion at night… and day!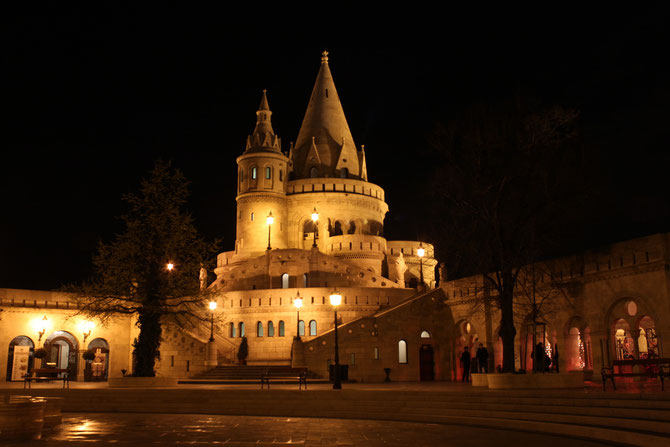 The Fisherman's Bastion is located on the Buda hill. It is not only an extremely beautiful tower construction around Matthias Church, but also a great viewing point with an amazing Danube panorama, Pest on the other side of it and of course, the amazing building of the Hungarian Parliament. It is probably one of the best spots to take pictures of this amazing building. 
A hint: during the day you will have to pay a small fee to go up the Bastion's wall. In the evening and at night you can go up for free. And let's admit it — with all the lights on down there the view of the Budapest at night is even more stunning. 
3. Visit Matthias Church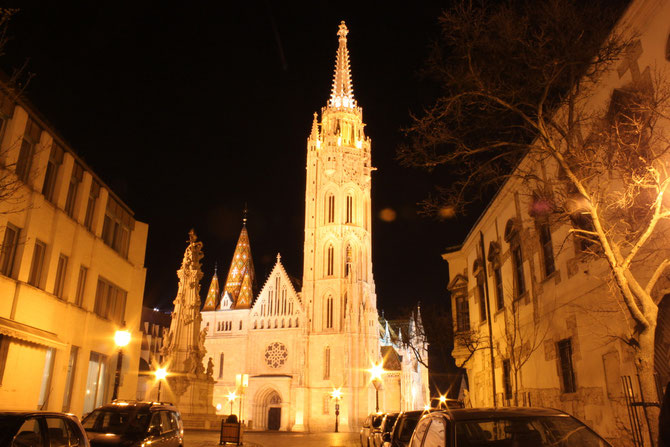 Matthias Church is surrounded by Fisherman's Bastion and is very beautiful inside and outside. A fee applies to tourists to visit the church, except on Catholic holidays, like Easter Sunday. At this time the church is open for everyone for free.
4. Buda castle hill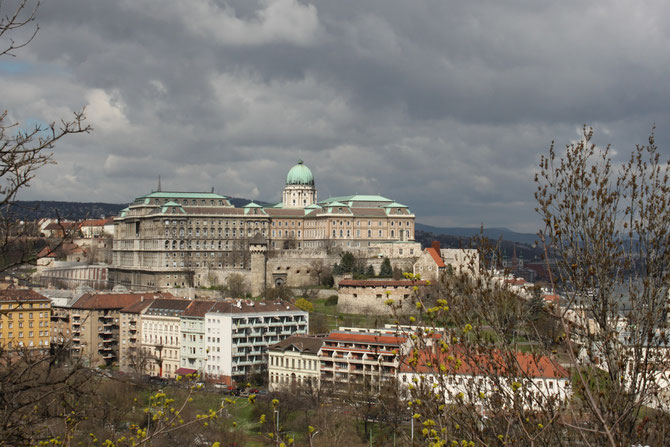 Budapest is a city that is divided by the river Danube with Buda on one side and Pest on the other. Buda castle is probably the first massive building that you will see from the distance. Nowadays it serves as museum and anyone can take a tour to see the building from the inside. The panorama view is as amazing as from the Fisherman's Bastion, although the Parliament building is a bit further away.
5. Walk up the mountain to the Citadella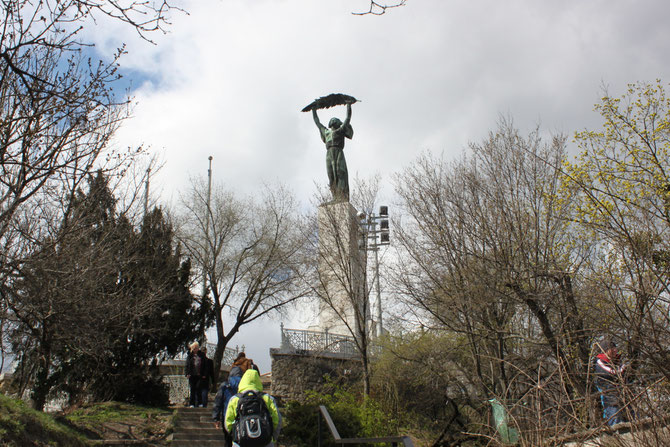 A hint: If you like walking and are in good shape, try to walk from Fisherman's Bastion via Buda Castle and up to the Citadella. It will probably take you half a day, depending on your speed.
Next to the Buda castle hill  on the top of Gellert hill a fortress, called Citadella, is located. If you are enjoying a warm and sunny day in Budapest, I do recommend going up there. It is quite a hike, but is definitely worth it, especially if you, like me, has been enjoying delicious Hungarian meals for several days!
6. Visit the church in the rock
It is really a church. Inside the rock. It is located on the bottom of Gellert hill, or actually inside of it, just next to the famous thermal bath and hotel. This church is definitely a very unusual place to visit. It is quite small and looks like a cave on the inside. But not a wet and nasty one, on the contrary — it is really beautiful and well taken care of.  An entrance fee applies, except on the days of Catholic holidays, like Easter.
7. The Hungarian parliament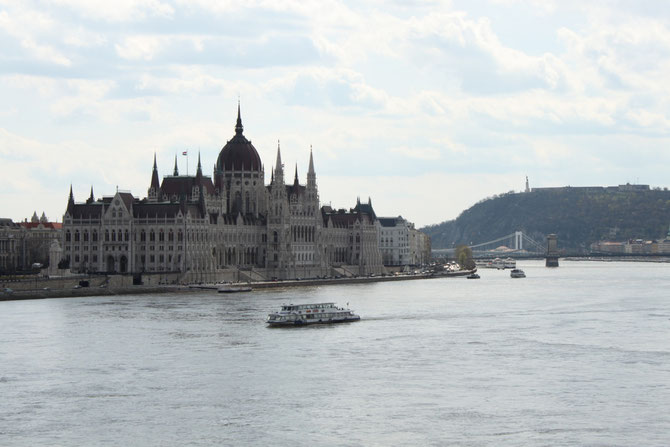 A hint: you don't necessarily need to buy tickets for parliament online, but make sure to arrive early on the day you want to go inside. Normally, all the tickets for a day are gone by 11:30.
Walking around parliament, taking some stunning pictures or just admiring this incredible building is a must when visiting Budapest. It is also possible to go inside, but only with a guided tour. They are available in different languages and take around 45 minutes. The entrance fees are different for EU and non-EU citizens, so if you are from outside the Union, the visit can be quite pricy. 
8. Visit the Shoes on the Danube Bank memorial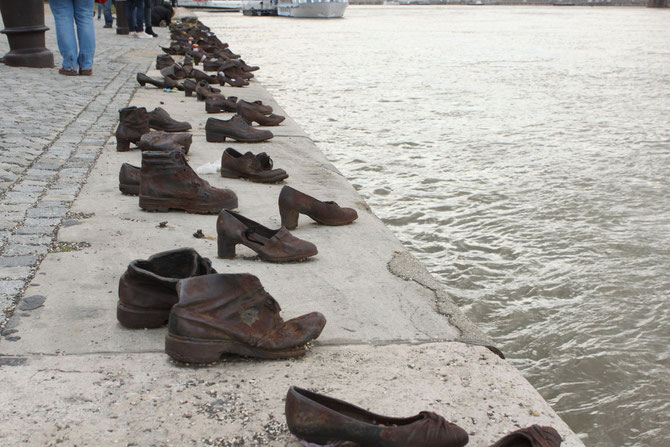 This place is a MUST visit. It is a monument that reminds us of the events in history that we should never forget. The Shoes on the Danube Bank is a memorial to victims of holocaust and is in remembrance of the people who were killed and thrown into the Danube. If you know the story and understand that this is not a shoe exhibition, you are guaranteed to get goose pimples and, hopefully, some important thoughts in your head. 
9. Walk in the streets and parks of Budapest
Not every moment of your Budapest stay should be dedicated to sightseeing. I really enjoyed long walks in the city, gazing at incredible buildings, doing window shopping and so on. A park behind the Heroes Square is a really great place for jogging or just walking. As far as I understood, this is also a great place for a picnic during warm seasons and an equipped ice-skating arena during winter.
10. Visit during the festival times
Just google if there are any events going on when you are visiting, you will love the atmosphere!

We were visiting Budapest during Easter and the city was full of little festivals here and there. Great local food, drinks, sweets, music, some clothes or things that you can buy as souvenirs — you just immediately love the festival spirit. I do recommend eating the street food, trying their traditional alcohol Palinka and having fun together with locals and tourists. 
11. Eat local food! And not only :)
Goulash, filled paprikas, lots of meat, pancakes, cheese, meat, sausage, cabbage, meat. The Hungarian cuisine is really savory, flavorful, meaty and very tasty. And even though my grandmother tells me every person should eat 300gr of beef a day (seriously, no joke, that's what she tells me), I eat meat quite rarely. I tried goulash and it was awesome. But generally, I was able to find great traditional dishes without meat: with cheese, paprika, cabbage and so on. 
A hint: a great place to eat in Budapest is the Hummus Bar. It's not traditional Hungarian food, but extremely tasty and really for people on a budget. Vegetarians as well as meat lovers will find there great and energy restoring meals. Hummus bars are everywhere around Budapest.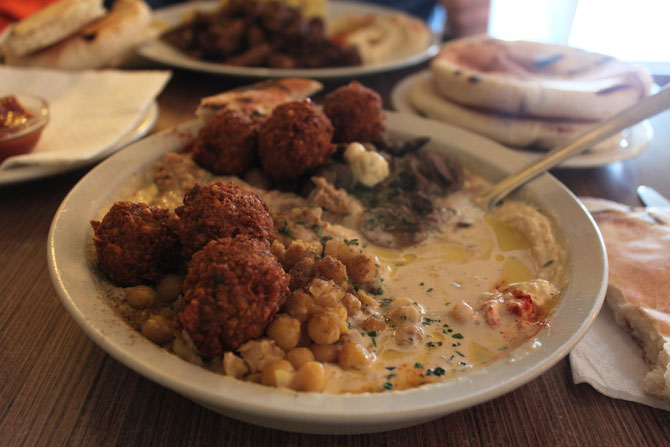 12. Visit the market and shop for spices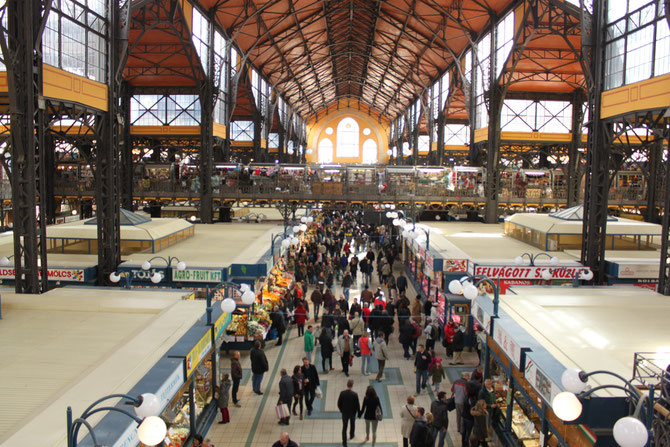 A hint: on the second floor of the market, there is a food court and a restaurant where you can sit. If you really want to eat at the market I do recommend one of the small food kiosks on the right-hand side from the entrance, since the restaurant is really pricy for what it is. 

I love markets of all kinds. So, probably in every city I go, I am trying to visit a market to look around, shop for some locals stuff, fresh fruits when possible or just get an impression of what residents are buying. The market in Budapest is great for this kind of stuff! Spices, fabrics, traditional clothes, toys along with fruits, vegetables and proteins for local shoppers. 
13. St. Stephen's Basilica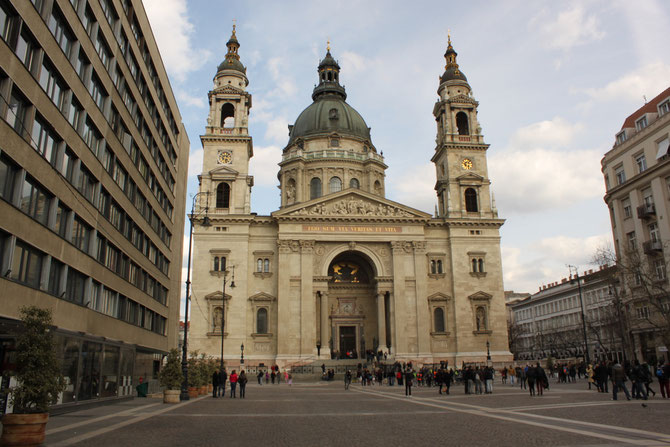 The church is located in the center of Budapest and is considered one of the main attractions of the city. It is really big and very beautiful inside. You are guaranteed to be impressed with its dimensions especially if you haven't been in Rome :) It is a working church and sometimes is not available for tourists during service times.

14. Stay in an Airbnb apartment!
Before I travel I always compare hotel prices to airbnb apartments in destinations. I look at prices, locations, amenities that are available to guests and so on. This time the airbnb apartment was so much better for us than any hotel, so we went for it gladly. The apartment was on the last floor of a building and you could see over the roofs of Budapest till Gellert hill on the background.
I also generally feel more comfortable, staying in apartments, rather than in hotels. And some helpful advice about restaurants, local attractions and transportation directly from a host, are priceless.
A hint: if you want to get an airbnb discount for your first booking, just go ahead and register with that link. I give you a lovely start bonus :)
---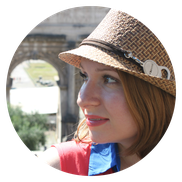 Hi, I am Maria, blogger and founder of Globalmary.com.
I was born and grew up in Russia, studied in Sweden and now live in Hamburg, my most favorite city in Germany. I travel a lot and write about places I've been to. I share my best travel tips and experience about what it means to live a global life!

---
Did you like this article? Share it!