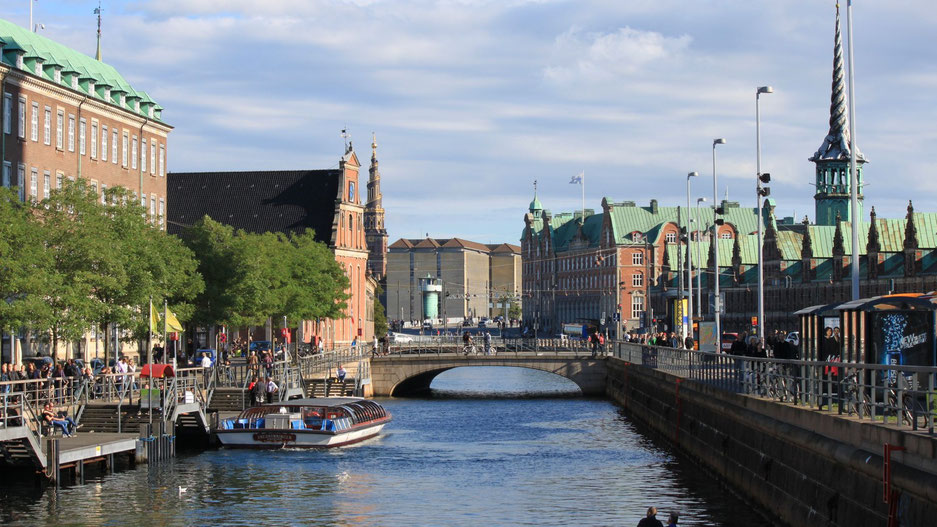 A longer weekend in Copenhagen is a great idea. The city is very beautiful with lots of cute quarters. If you are around and have the chance of visiting Copenhagen, do it — you'll love the views, colors and relaxed atmosphere. This is a kind of city, where you feel comfortable and can easily find your way around just after a couple of hours being there. 
It's not cheap to stay in Copenhagen, that's true. However, a city break on a budget is still possible. The most interesting things to do and see in Copenhagen are actually free. Like in many other European cities public transportation is also not cheap, but the great news is that you don't even need it. Everything in Copenhagen is within walking distance and you can really see the city on foot over a weekend. 
It doesn't matter, if you are staying for just 48 hours or plan a longer weekend in Copenhagen. This article offers a great overview of all the top places you'll want to visit.
1. Colorful and cozy Nyhavn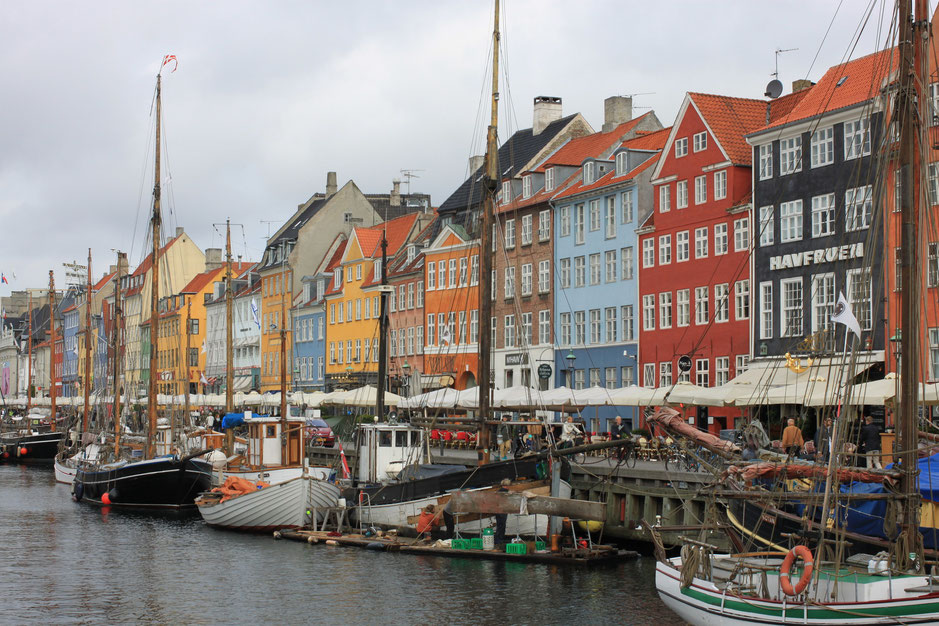 If you've ever googled "Copenhagen", you definitely have seen this view! Colorful houses, boats, cute small cafes and people enjoying the city… This is Nyhavn, or New Harbor, a beautiful, historical street in Copenhagen. It is great for taking pictures, taking a walk, having a drink or breakfast in one of the charming cafes along water. During warm times of the year it is great to sit outside, enjoy the sun and watch tourists and locals passing by. 
2. Christiania, freetown in the heart of Copenhagen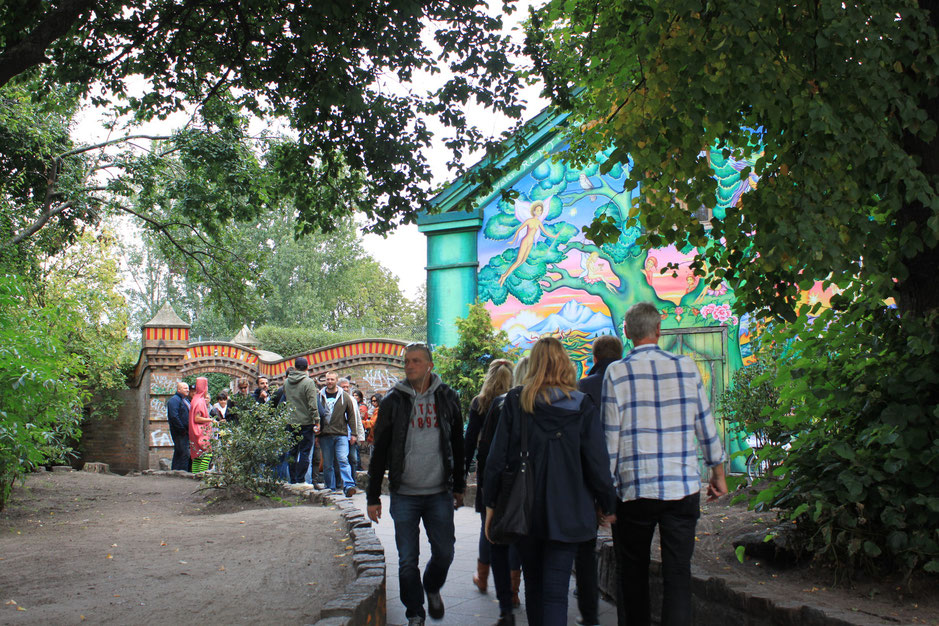 Have you already heard about Christiania? It's got quite famous in the past couple of years. Long story short: Christiania was an occupied territory since the seventies that caused a lot of problems to Danish government, especially because of the drug dealing and consumption there. It was closed down by residents, but nowadays it is open to visitors again.
If you want to witness an alternative to the modern governments and see people who are not afraid to be different and not follow the rules of society, you should visit Christiania. The residents bought this land and still live there, having their own democracy. Yes, you can smell cannabis everywhere when you walk through. But is this place just about smoking weed? Some say, yes. I say, no. This place is a challenge to the contemporary politics, conservative norms and be-like-everyone-else society. You may disagree with their views and values, but you will definitely find this place and its history fascinating. By the way, no pictures inside the area.
3. Amalienborg and changing of the guards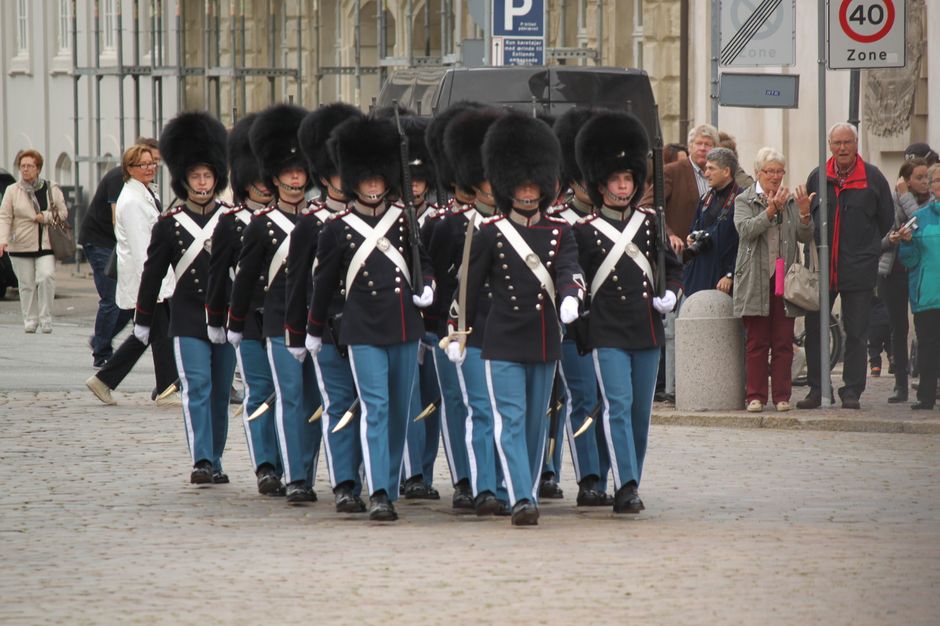 Completely the opposite of Christiania — the residence of the royal family Amalienborg and the daily military performance — changing of the guards. A traditional ritual and entertainment for tourists. If you are around the square with four almost identical palaces at 12:00 o'clock, stay to watch the ceremony. If the Danish queen is at home, the event is going to be big and with music. If she is out of the palace, it's going to be humble, more symbolic ceremony that still attracts quite a lot of people.
Pay attention to the statue of King Frederik V in the middle of the square was built by one of the most trendy artists of the time? He was from France and his main condition for accepting the job was that his whole family would live with him in Denmark. Of course, he wanted to be paid accordingly. In the end the construction of the statue was way more expensive than all four palaces together! That sounds pretty crazy, doesn't it?
4. Gardens and fountain behind Amalienborg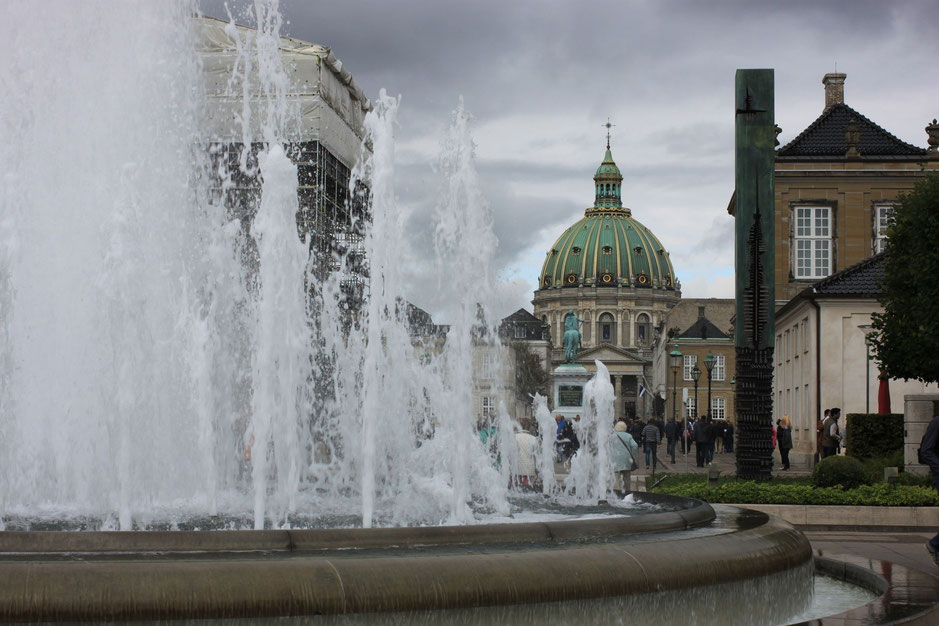 Right behind the square with four palaces you will find a nice place to relax and stretch your legs. Two symmetrical gardens and a fountain in between are located just next to water and you can see the modern building of Opera House from there. Take you time to enjoy the quietness of the gardens.
5. Park Tivoli and its gardens, of course!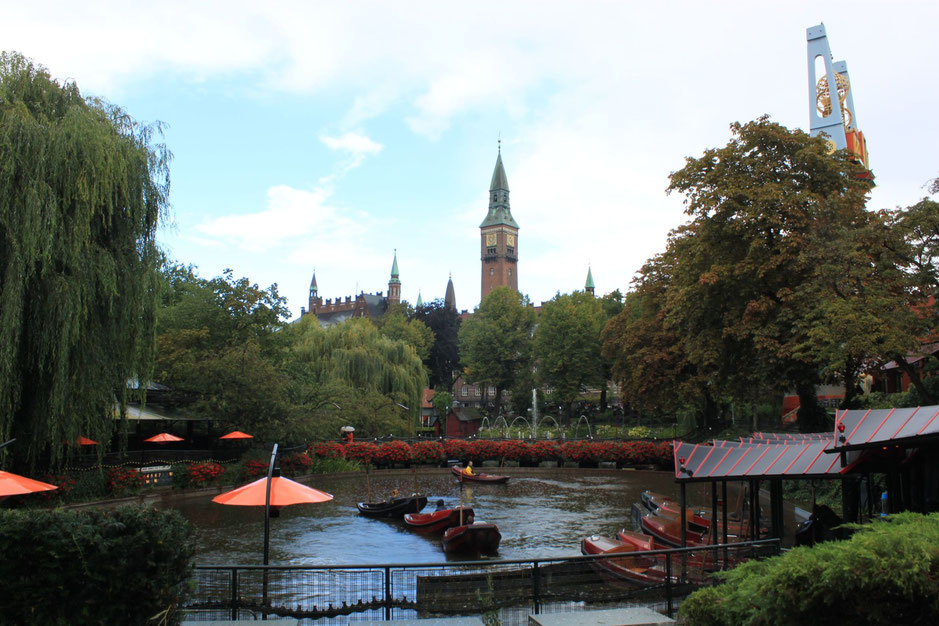 Tivoli is an amusement park in the very heart of Copenhagen and is located just next to the main train station. It is often considered an oldest amusement park in the world, but I was surprised to find out that it is, in fact, wrong! The oldest amusement park in the world was founded almost 300 years before Tivoli and is also located in Denmark, just 10 minutes away from Copenhagen. But Tivoli has a great location, is also quite old and more famous, so it took the spotlight away from its older neighbour.
The oldest park in the world or not, Tivoli is a great entertainment and probably a highlight for many tourists and also locals in Copenhagen. I've seen there three or even four generations of family members having an amazing time together.
What to do there? Ride roller coasters, see performances, eat, take a walk, play slot machines or have a drink. Unlike Disneyland, the entrance fee to Tivoli does not include rides, so if for some reason you don't want to take them, you don't have to pay for them. However, if you are there for the roller coasters, I highly recommend you to buy a daily pass. It is ten times more expensive as a single ticket, but for some of the rides you'll need to have up to three of them.
Important: Tivoli is not opened all year round. Make sure to check the Tivoli opening hours and seasons before buying your tickets online.
6. Walk in Rosenborg Palace Garden... and use free Wi-Fi!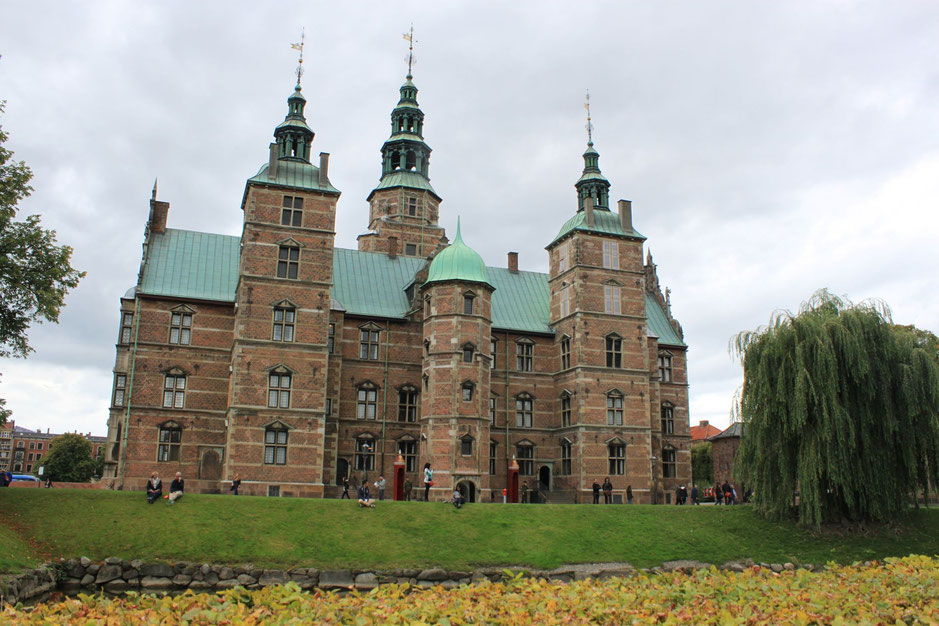 Ok, free Wi-Fi is not the main reason to go there, really. It is a beautiful park with a wonderful palace in the center. Wi-fi comes as a bonus for the visitors of this place.  A lot of locals come here to chill with their friends of families, the joggers are passing by and the kids are playing around. If you want to feel like a local, this is a great place to dive into the weekend atmosphere.
7. Visit The Little Mermaid and Kastellet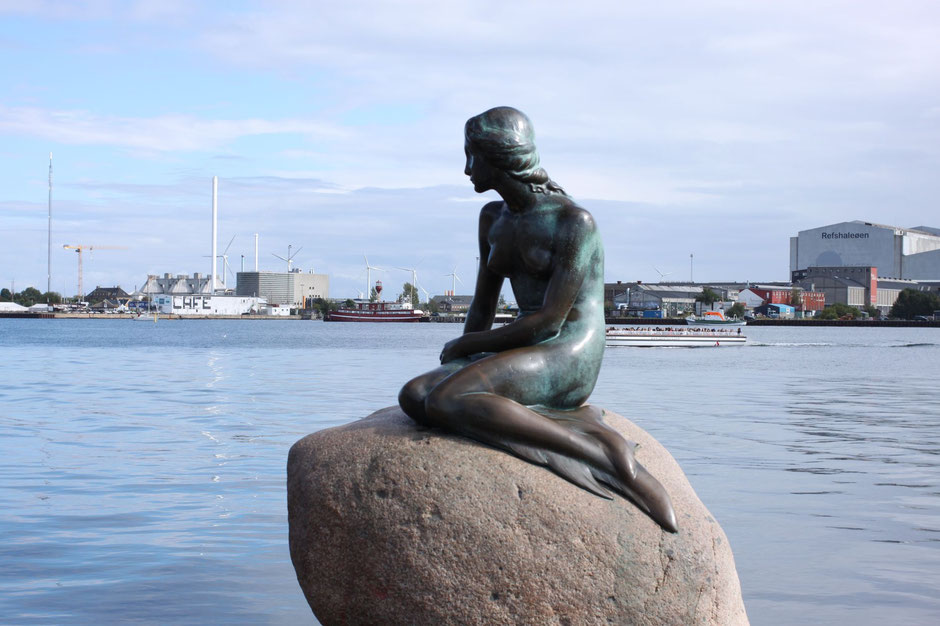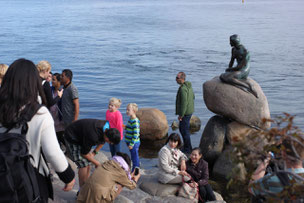 A small statue of a mermaid sitting on a rock in the sea has become a symbol of Copenhagen for many. Her gentle features and sad face, the sound of waves and city somewhere far in the background fill you up with some kind of sweet melancholy. However, it's hard to find the place quiet at day time. So many people come to see The Little Mermaid in tourist buses. Probably early morning hours could be great to enjoy her company in solitude.
There are different ways how to get to The Little Mermaid from the city — along the coast or through Kastellet, an old fortress in the form of a star. It is a very nice place to walk. Even military buildings are cute in Denmark! 
I had a connection to Denmark ever since! I have a great Danish friend, who lives and has a company in Russia (no joke!), since three years I have been living just two hours away from the Danish border, I almost got married in Denmark (true story, will tell it next time) and I have never ever been there till the weekend in Copenhagen. I really liked the city, its relaxed atmosphere and the enjoyable sights it has. I had an impression that Copenhagen is an awesome city for living, but also great for a visit during a longer weekend. Have you been there, or just planning to go? Let me know!
---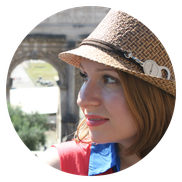 Hi, I am Maria, blogger and founder of Globalmary.com.
I was born and grew up in Russia, studied in Sweden and now live in Hamburg, my most favorite city in Germany. I travel a lot and write about places I've been to. I share my best travel tips and experience about what it means to live a global life!
---
Did you like this article? Share it!