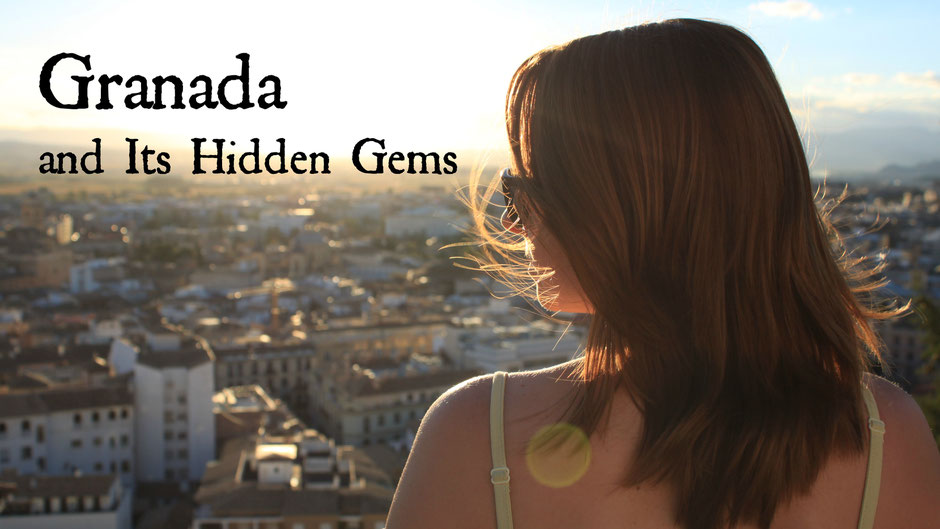 Granada in Spain is a huge attraction for so many people from all over the world, mainly because of the Alhambra. This palace and fortress complex is a UNESCO World Heritage site and has definitely deserved its reputation as one of the most beautiful palaces in the world. A lot of people just take a day trip to Granada to explore the Alhambra and then move on. I guess if you are limited in time, it's an option. However, I recommend you to stay longer, experience the incredible mix of cultures and enjoy what it has to offer. Granada has so many hidden gems and points of interest, and I have discovered some of them for you.
Now, my first advice: do not rush. Try to adjust to the Spanish way and take it slow, when you arrive: do siesta, relax and take your time for the things you like to see in Granada. Secondly, be prepared: tickets to the Alhambra are usually gone weeks (if not months) in advance. Thirdly, do your research: the most incredible places and sights in Granada are often overlooked by tourists. This is my list of top things to do in Granada - I hope it will inspire you and will make your trip very enjoyable.
1. Alhambra of Granada: Plan your visit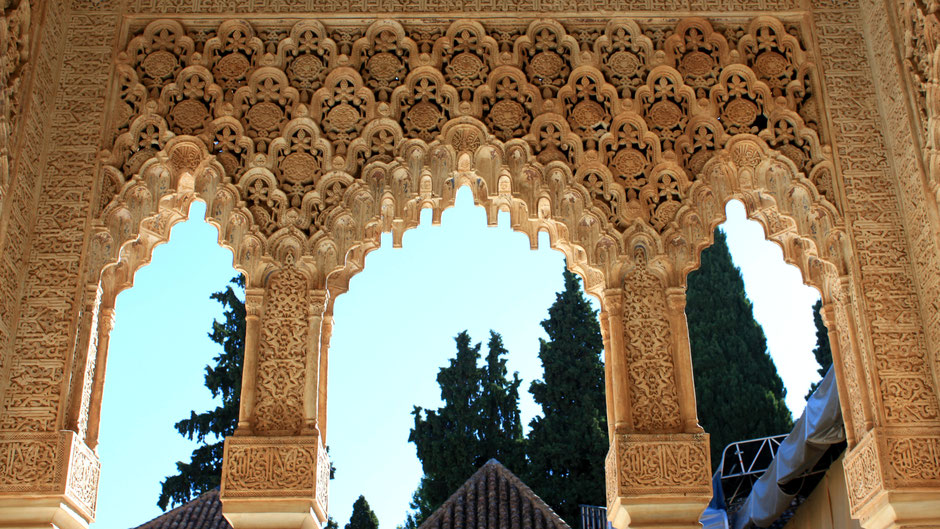 Did you know that the gardens of Alhambra are completely free and anyone can visit them? Do you know that if you didn't buy your tickets in advance, there is still a chance of getting them? What should you know when visiting the Alhambra? Let's take it slow and step by step prepare you for your visit. 
First things first: buy a ticket to the Alhambra online as soon as you know the date of your visit to Granada. The tickets are gone really fast, so I would recommend booking them well in advance. Keep in mind that when you arrive in Granada you will have to exchange your reservation to the entrance tickets in one of the ticket boxes.
If you are already too late and tickets for your dates are sold out, don't worry — you still have a chance to get the tickets. Sometimes, tourist groups and individuals cancel their visits, so you can get the tickets online (try ticketmaster) a night before, or in the ticket machines at the entrance very early in the morning. Some recommend to come around 6 am.
When you buy your ticket, you will have to indicate a time you want to go in — it is the time to enter the Nasrid Palace. You must be at the entrance at least 15 minutes in advance, because if you are late, they will not let you in. All the other parts of the Alhambra you can visit before or after that. I think it's great that they do it because they want to make sure that there are not too many people inside at the same time. It helps them to preserve the palace and also enhance your experience
How long should you plan to visit Alhambra? I suggest at least four to five hours. Also don't forget to take some water and snacks with you. There are some kiosks that sell sandwiches and drinks, but the prices there are so much higher than the average in Granada. Believe me, you won't regret bringing your own food.
A little surprise for you: the entrance to the actual gardens of the Alhambra is completely free! Even if you didn't get tickets to the Nasrid Palace and Generalife, you can still go to the complex of the Alhambra and walk around there. The gardens are very beautiful and big, so you can easily spend a few hours there.  As a free bonus, you will have an incredible view of Granada.
2. The best tradition of Granada: get a free tapa with your drink
It is quite known that Granada has a famous tradition: when you order a drink, you get a complimentary tapa. What? Free food? Hell yeah! And it is not just a tiny plate of olives or peanuts — it is almost a meal. When in Granada, you should enjoy this tradition for sure: it will not only help you to save some money, but also give you an idea of the traditional cuisine and the hospitality of Granada.
It is important to understand though, that if you really want to go for a traditional experience, you need to know good places. I have some recommendations for you, of course, but there are some simple rules you need to keep in mind not to get into a tourist trap.
Firstly, avoid restaurants on main squares, streets and next to the main tourist attractions. Secondly, never ever, ever go into the places when someone is trying to get you in. Believe me, good local places don't need this kind of promotion. Thirdly, most of the places combine a bar and a restaurant, so when you first arrive, head straight to the bar and have a drink or two. The complimentary tapas will accompany them. If you are still feeling like eating dinner, proceed to the restaurant.
Having said that I feel that you are prepared to set of for a culinary adventure in Granada and explore some nice bars. The ones that I went to and can recommend are: 
Bar and restaurant "La Sitarilla" — if you are on the budget, just order drinks, and tapas will come along. If you are hungry and feel like eating a dinner, order one dish for two — the portions are huge! Traveling solo? Stick to the drinks and free tapas!
Bar and restaurant "Chantarela" works exactly after the same principle as "La Sitarilla". It is, however, way more expensive, if you want to have dinner there. I would recommend this place only for the drinks with free tapas.
Bar Damasqueros (not the restaurant!) — has a great variety of beers, nice Tinto de Verano (cold red wine) and really tasty tapas to every drink. If you are hungry, order Salmorejo, the Andalusian version of gazpacho — it is yummy!
Do you know more great places in Granada? Let me know in the comments — I will include them in the article.
3. Explore the secret gardens of Granada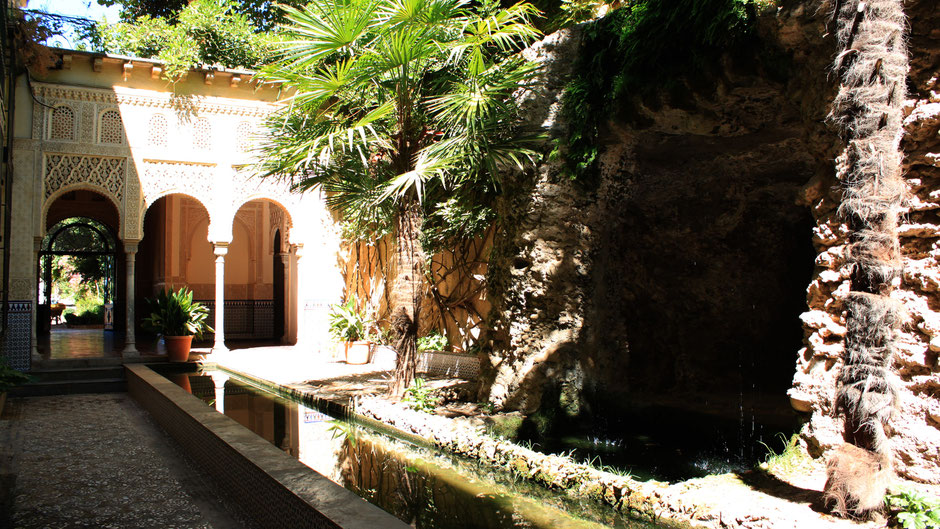 By this moment you already know that you can access the Alhambra gardens for free. This is a secret garden number one. The secret garden number two is located just next to the Alhambra on the neighbouring hill and is a perfect spot to cool down on a hot day. It is called Carmen de los Mártires and since it's a hidden gem, not so many people come there.
Carmen de los Mártires is a garden on two levels with amazing fountains and a beautiful traditional house that is open to the public. It is a perfect location for taking pictures in the style of the Alhambra's Nasrid Palace, just without all the annoying tourists. I highly recommend visiting it. Make sure to check the opening hours before you go, because they are not open all day and have a lunch break, too. The entrance is always free. 
The third secret garden is even more secret than the previous two altogether. Carmen de la Victoria is located in Albayzín, the old Arab city of Granada. To access it, you actually need to ring a bell. The word Carmen is used to describe a private pleasure garden — you will see quite a few of them when walking in Albayzín. The Carmen de la Victoria belongs to the University of Granada and is available to the public. Inside they have a beautiful garden with a stunning view to the Alhambra, a nice cafe and accommodation for the university guests. All you need to do is to find the entrance and ring the doorbell. Google the location and find the sign on the door. Alternatively, join a free walking tour and they will take you there with the group.
4. Go for a free walking tour
Plaza Nueva is the place where most of the walking tours start. They are not taking place daily, the starting times can vary and there are different companies that offer them. I recommend you googling the free walking tour in Granada and decide which one fits you best. I personally went with the Pancho Tours and our amazing guide Ana did not disappoint. Granada has a fascinating history that will help you understand the cultural mix of the city. In addition, I recommend taking a tour in Albayzín, because the guide will show you so many wonderful spots that you might miss out on your own. 
5. Explore Albayzín
Albayzín, also callen Albaicin, is the old Arab city of Granada. It is a very cool area with white houses, unbelievable views and it's built like a labyrinth. It is also a UNESCO World Heritage Site. Don't hesitate to explore it on your own, but don't forget to take a map! 
The places that you want to find in Albayzín for sure are:
Mezquita Mayor de Granada — the mosque of Granada that has a nice garden and a view on the Alhambra.
Plaza de San Nicolas — the ultimate viewpoint of Granada. Here you get the best view on the Alhambra, especially during the sunset, when the building is turning red with the last light of the day. Plaza de San Nicolas is also a gathering place for street sellers and musicians.
Arco de las Pesas — is an old and tricky way into one of the most beautiful and lively squares in Albayzín. You can find there beautiful buildings, a traditional market and a lot of really nice bars and restaurants.
6. Visit Casa de Zafra, the old arab house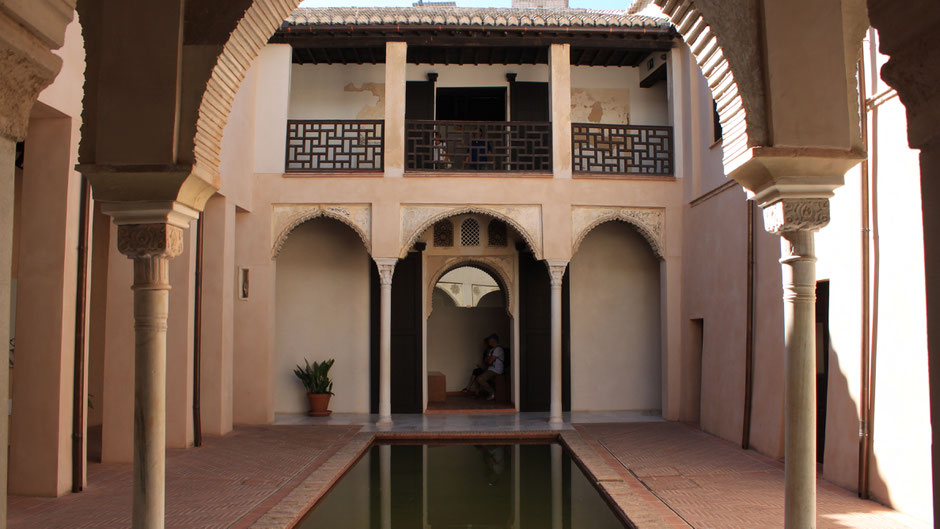 Casa de Zafra is a typical example of the old arab houses of the Albayzín area. It looks very simple from the outside, but when you are inside, you feel like being in a smaller version of an Alcazar. Inside is a museum, there you can learn a lot about the history of Granada. I highly recommend going there, especially because it is free of charge. 
7. Enjoy the best of its culture in the arab neighbourhood
Granada is an amazing mix of Spanish and oriental culture, and this is the best thing about the city. This unique combination is something special and the great thing is that you get the best of both. I can't see a better way of relaxing after a long day of sightseeing than enjoying some delicious tea with a small delight. What I love about oriental places is that they are all about chilling. You never just sit there — you stretch among the comfortable pillows and beautiful interiors.
If you like Hookah, also called Shisha, then Granada is a place to enjoy it, too. At one point you may even think that you are somewhere in Morocco, because the atmosphere of the streets and bazaars is so oriental. 
Also, Granada is famous for its Hammam, and there are a few places that offer this experience. We visited in the late summer with temperatures over 40C every day, so I skipped it, but I am sure that visiting a Hammam in Granada will be something unforgettable!
Do you know more amazing places in Granada and think I should recommend them to my readers? Let me know in the comments!
---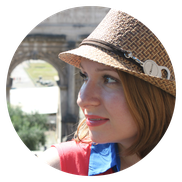 Hi, I am Maria, blogger and founder of Globalmary.com.
I was born and grew up in Russia, studied in Sweden and now live in Hamburg, my most favorite city in Germany. I travel a lot and write about places I've been to. I share my best travel tips and experience about what it means to live a global life!
---
Did you like this article? Share it!