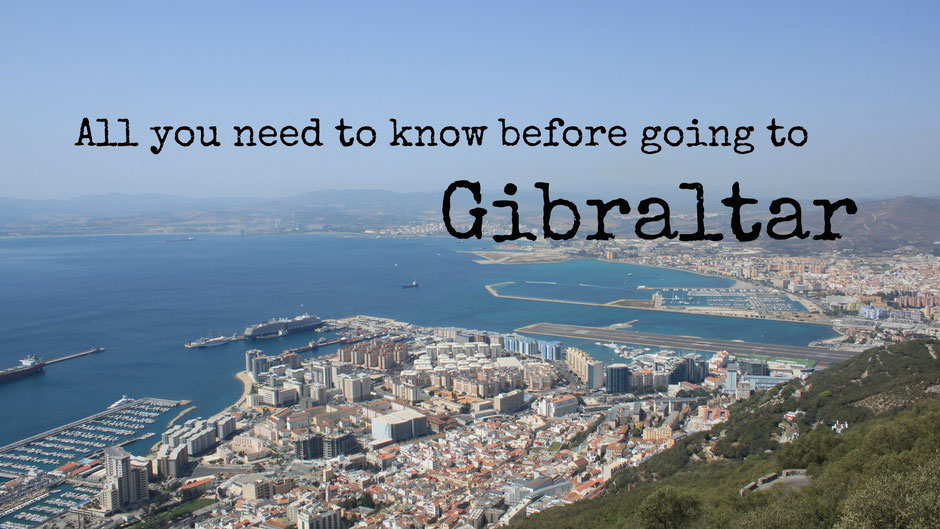 Gibraltar has always been a mysterious and a distant place for me. When I was small, I imagined it as a cold, misty place where the sea is rough and ships are breaking against the high cliffs. Don't ask me how this kind of image of Gibraltar got into my head! To be honest I never hoped to find out how it really is — it was so far away from where I was growing up. In addition, I knew my Russian passport  would require a very special visa to go to this place. Years later absolutely by chance I have got to find out that Gibraltar is a sunny and hot place, and even with my Russian passport I didn't need a visa to go there. 
In this article, you will get the information about:
parking when going to Gibraltar
going through the border Spain-Gibraltar
visa to Gibraltar and other ways to enter for non-EU and non-UK citizens
things to do in Gibraltar, including the Gibraltar viewpoint and going up the mountain by cable car, as well as some information about other things to do in Gibraltar.
Parking when visiting Gibraltar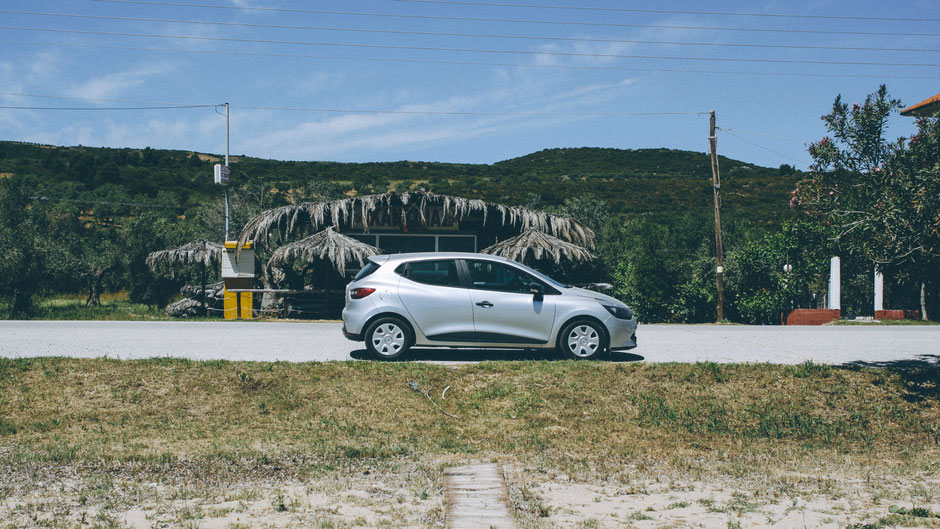 If you are traveling around Andalusia by car, it is another reason to visit Gibraltar from Spain. When you arrive at the border, my advice is to leave the car on the Spanish side. There are special parking lots just before the customs. It is much faster to cross the border on foot and if you are traveling with a rental car it generally might be a problem. In addition, on the Spanish side you pay in euros for the parking and in Gibraltar they use pounds. We paid something like 12 euros for a day, so I think it is quite reasonable.
Going through the border Spain - Gibraltar
Nothing extraordinary is happening on the border to Gibraltar. When you enter, you first see a Spanish officer who is just checking the availability of your documents. In the next step you are greeted by the customs officer of Gibraltar, who is checking your eligibility to enter. If you are a citizen of the EU or have a passport of one of those countries that don't need a visa for the UK, you can easily pass by. If you are a citizen of a country that requires a visa to the UK, it is a bit more complicated for you.
Visa to Gibraltar and other ways to enter for non-EU and non-UK citizens
So, I guess you are reading this because you hold a passport that requires a visa. On the website of Visit Gibraltar, it states: "As a general rule, those who require a visa to enter the UK also require a separate visa for entering Gibraltar." So, even if you have a visa to the UK, you would still need to obtain a visa to Gibraltar. If this makes little sense to you, I completely understand. Unfortunately, rules are rules and we cannot change it. However, there are some exceptions, so read carefully — maybe you are one of them.
"Everything changes if you are married to a citizen of European Union and you are entering Gibraltar together for the purpose of tourism."
If you are a citizen of Morocco, the People's Republic of China, Mongolia, India or Russia and have a multiple entry Schengen visa, you can enter and stay in Gibraltar for 21 days. Important is that your visa has to be still valid for at least 7 days on the date of departure.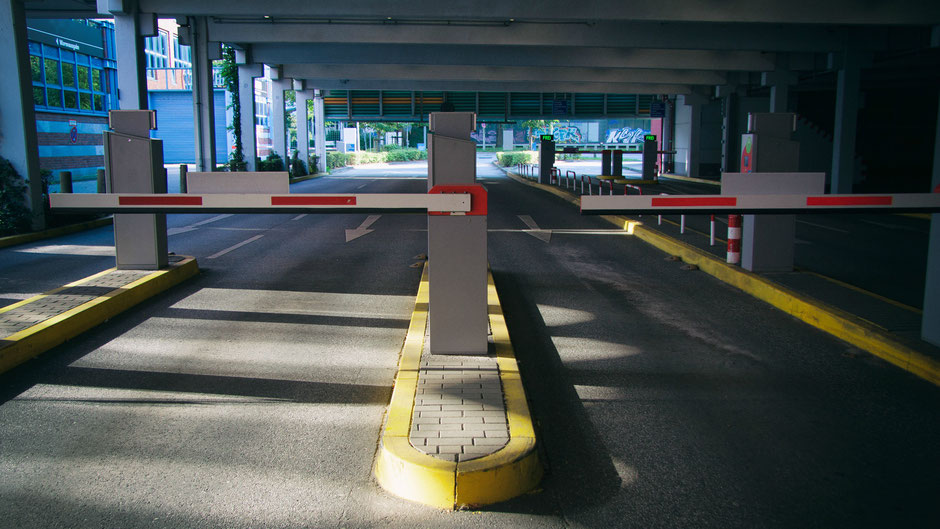 What if you have a passport that requires a visa for Gibraltar, but you live in European Union and have a permanent or temporary residence permit for the country where you are registered? Unfortunately, it doesn't really help you. Your residence permit, for example, from Germany, Spain, France, Sweden or any other country is technically not a Schengen visa and doesn't give you the right to enter Gibraltar.
However, everything changes if you are married to a citizen of European Union and you are entering Gibraltar together for the purpose of tourism. In that case, you need to show both passports (or your passport and ID of your partner) and prove the officer that you are married. The best way to do it is, of course, to bring your marriage certificate with you. This was exactly my case. I must say that I was still crazily worried on the border, and even my hands were shaking, but I am always feeling weird in front of officials of any kind. "This is NO good," — said the Gibraltar customs officer after talking to her boss and holding up my German residence permit. My heart sank at this point. "This is good," — she pointed at our marriage certificate, smiled and let us through.
If you are doubting your eligibility to enter Gibraltar, just email all your documents to visas.csro@gibraltar.gov.gi and ask about your particular case. I did that and I was astonished how quick and helpful their replies were. More information on visa and eligibility you can find here.
Gibraltar viewpont: going up the mountain by cable car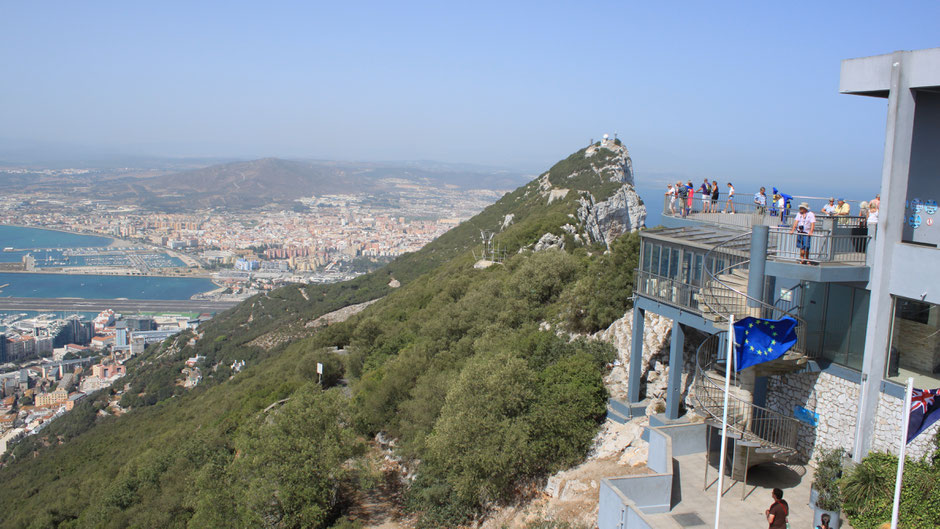 Gibraltar is a tiny piece of land and you may think there are not so many places to visit. That's true in a way. If you are not British or a person who is fascinated with the history of this place, many of the monuments have no or little meaning for you. However, there are some things that are quite unique for Gibraltar and I doubt that you get this combination anywhere else. 
Going up the highest point of Gibraltar is definitely the first thing I would recommend to do. The view is breathtaking and you have all Gibraltar just below you: the buildings, the Rock of Gibraltar, the famous airport that crosses the street. On a clear day you can even see the African continent from up there, also the Mediterranean Sea, the Atlantic Ocean and a small part of Spain. So, if you like Math, you get: 2 continents, 3 countries and 2 seas. And this all from one viewpoint! Not bad, right?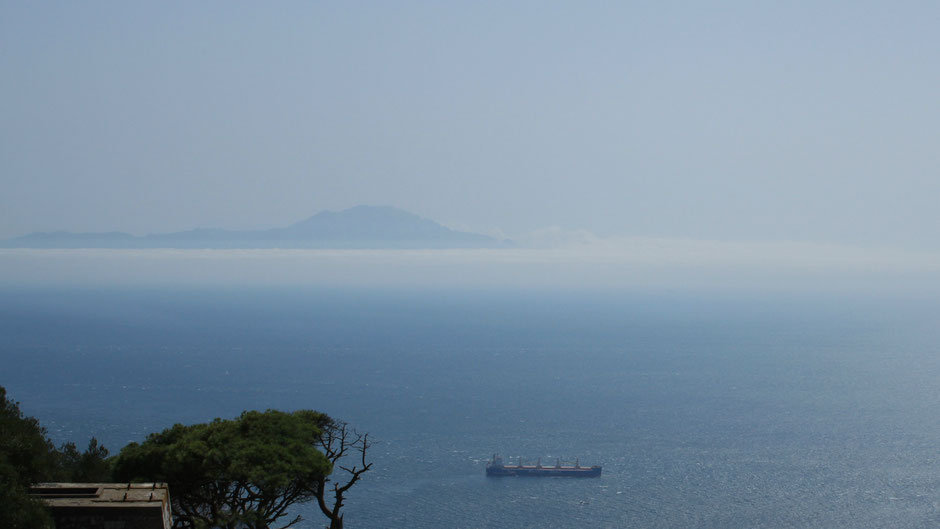 While up on the mountain you can meet apes who live there. I had a chance to see the whole families of them chilling around the tourists. The Barbary macaques are at home in Gibraltar and live in the nature reserve, but, of course, they are always getting close to people in a hope of some easy snacks. It is, however, prohibited to feed or touch the monkeys. They are also not supposed to go down to the city, so when one of them hopped on the roof of our cable car, we had to go back up to bring the ape to where it belonged. Crazy ride!
Take a cable car when going up. Don't get scammed by the offer for busses!
If you are intending to go up the mountain and don't want to walk (which is also an option and will take around four hours), I recommend to take the cable car and buy the tickets online. Since I was not sure if they let me through the border, I hadn't done that. This is why we were standing in a regular line to buy the tickets and had an amazing sales performance going on in front of us. 
"They claim to offer you the same experience for the same price. In reality, what they offer is not the same at all!"
There are minibuses in Gibraltar that offer you a city tour. There are also similar (or the same?) busses that start directly at the cable car station and promise tourists exactly the same experience as with the cable car. There are quite a few salespeople for these bus companies, who walk around and try to get people out of the line for cable car to instead take a bus. They are really pushy and use the arguments like: "From this point you will wait for two hours to just buy your tickets! What we offer is exactly the same! The price for the bus is the same as the cable car and includes the ticket to the natural reserve!" In reality, however, what they offer is not the same at all! So, be careful and don't fall for their offer.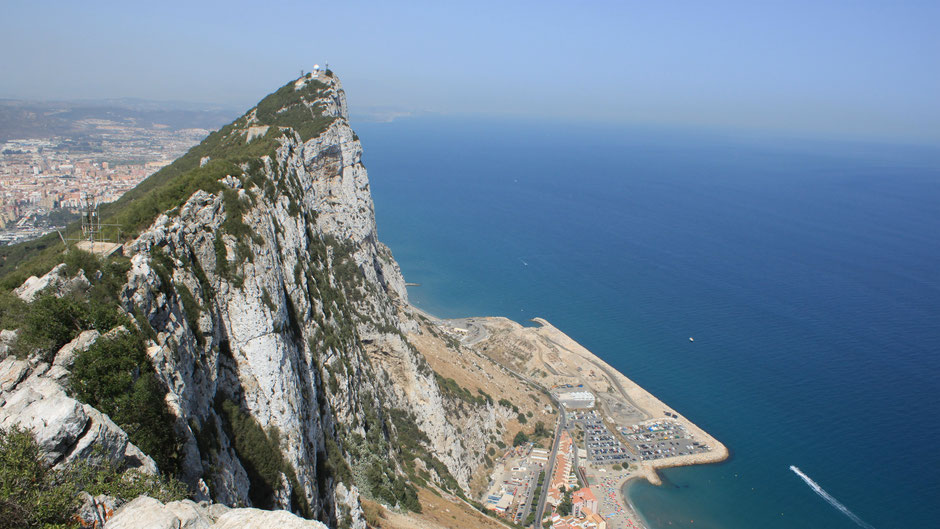 When you take the cable car, you can choose if you want to have a ticket just to go to the view point, or if you want to combine it with the nature reserve, visit caves and tunnels. If you like me just want to get up for the view, you pay way less — 12 pounds for a return trip. It only takes 6 minutes to get up or down, if you have no monkeys on board. By taking cable car we could choose, how much time we would like to spend on the view point and returned after almost two hours. Especially, if you are going to the nature reserve, it is important to take your time and enjoy it. The price for nature reserve, including all the sights and a return cable car ride is around 20 pounds.
When you take the bus, they promise you "the same experience for the same price without need to wait in line". What is happening in reality is that they are getting you into a tourist trap — you are very likely to overpay and miss out on the experience. The price that I was told for the bus ride was 32 euros per person, has three stops and the duration of the round-trip would be 1,5 hours. This is how I imagine it: they pack the bus full, quickly drive up, stop for 10 minutes for taking pictures and then hurry down to get a new group of tourists.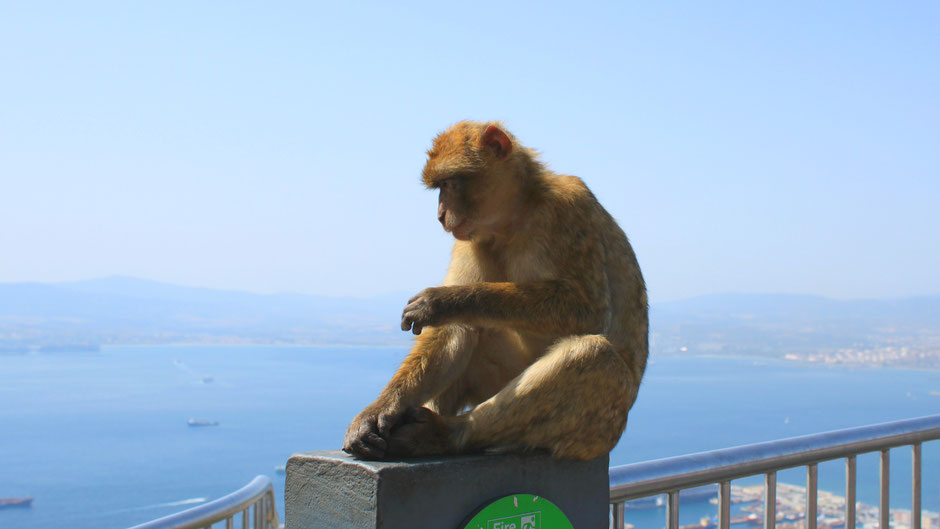 If you are in a hurry, this, of course, might be an option for you. In case you don't want to overpay and enjoy — take the cable car. You can consult the prices here. Even if you don't buy tickets in advance, it doesn't take two hours to get them on the spot! We had to wait not more than one hour to get the tickets and hop on the cable car — and we were standing quite far in line. 
What else to do in Gibraltar?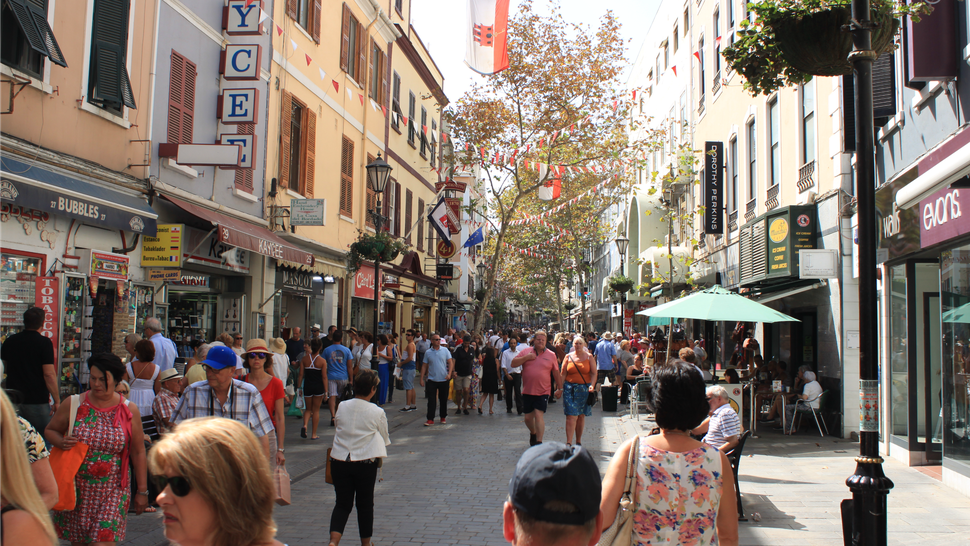 You can go duty free shopping in Gibraltar — they have anything from alcohol to jewelry and cosmetics. I didn't, since I don't smoke, wear little jewelry and have way too much cosmetics already!
Take a ship to Tangier in Morocco. I have been reading really mixed reviews about going to Tangier for one day, as many people were saying that this was a disappointing experience. In the end I have decided against it. However, if you fancy visiting three countries in one day, or would like to continue your trip to Morocco, this might be a great way to get there. 
Pay a visit to Botanical Gardens. They are gorgeous and will definitely save you from the heat on a hot day and you can enjoy the quietness of this place. The entrance to the garden is right next to the cable car.  
Watch a plane taking off or landing in the Gibraltar airport, one of the most famous in the world. It crosses the street for cars and pedestrians and the runway ends into the sea. Crazy! I recommend checking departures and arrivals in advance and watch planes from the mountain.  
Gibraltar, wow! I still can't believe I have been there. #neverstopdreaming :) If you are traveling in Spain and is passing by the area, go ahead and check out Gibraltar. It's funny, how you almost teleport from Spain to Great Britain! 
Going to Gibraltar? Do you have questions about it? Do you have some feedback about this article? Let me know in the comments below :)
---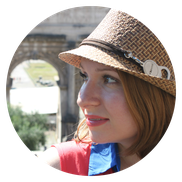 Hi, I am Maria, blogger and founder of Globalmary.com.
I was born and grew up in Russia, studied in Sweden and now live in Hamburg, my most favorite city in Germany. I travel a lot and write about places I've been to. I share my best travel tips and experience about what it means to live a global life!
---
Did you like this article? Share it!