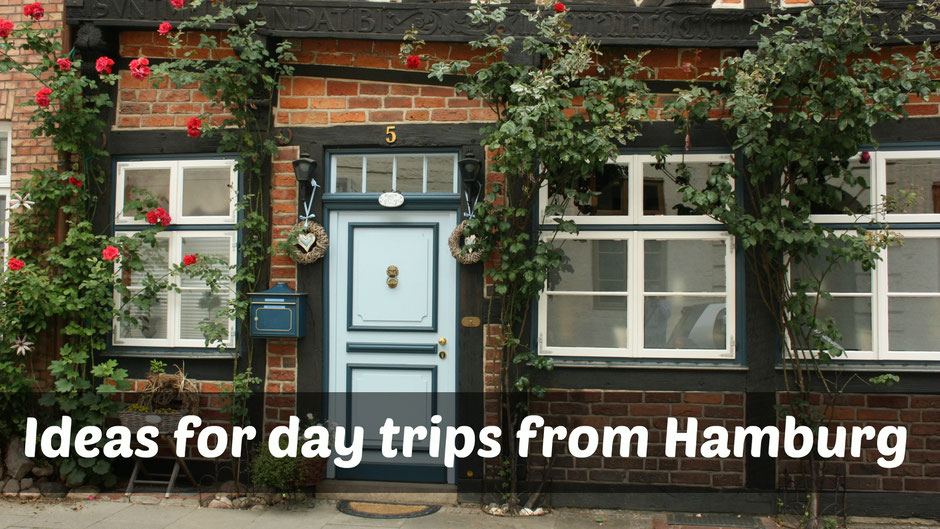 Hamburg is a pearl in Northern Germany. There is so much to do and see in Hamburg! Also around Hamburg there are a lot of beautiful and interesting places you might want to check out. Old towns and beautiful cities, walking in nature or a day at the beach? There is literally everything. If you are looking for some great places for a day trip from Hamburg, I have you covered!All these places are available just an hour or so away from Hamburg's city center.
When I had just moved to Hamburg I have been spending my weekends in the city only, just because it has so much to offer. Then, step by step I started traveling around more and discovering the surroundings. Some of the places I am writing about in this post are still within Hamburg, some — around it, but not very far, and all of them are easily reachable with public transportation.
Lovely old towns close to Hamburg
Couple of years ago I used to think that the most beautiful towns are located in the Southern part of Germany. Beginner's mistake! Northern Germany too has a lot of magnificent old towns and many of them are located quite close to Hamburg.
1. Lüneburg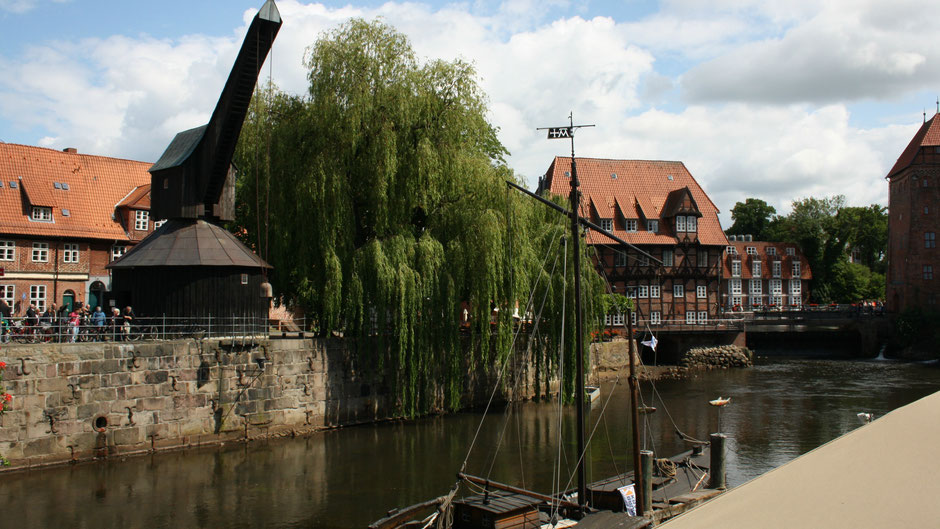 Lüneburg is a gem of Northern Germany and is a number one choice for a day trip from Hamburg. It is an old, very well preserved town with a beautiful city center. If you want to see what a hanseatic, wealthy city looked like 200-300 years ago, Lüneburg is there for you. It has everything  you might be looking for: narrow streets, typical for the area red-brick houses and restaurants with traditional German cuisine. Lüneburg is perfect for taking beautiful pictures, sitting in one of the cafes along the channel, visiting the old river port, town festivals or a Christmas market in December. 
Travel time: 35 minutes from the main train station by a regional train.
2. Stade
Stade is another beautiful town located very close to Hamburg. It also has a port and a long hanseatic history, just like its bigger neighbour. No wonder that for a very long time Stade and Hamburg were competing for the right to be the main port of the area. In a recent documentary I watched, they told the story of how Hamburg has managed to win this privilege. It turns out that that the representatives of the city presented a map showing the location of Hamburg on the river was strategically much better that the location of Stade, so they won. The only problem is: this map was a fake! 
Since then Hamburg has grown to be the second largest city in Germany and Stade stayed a smaller town next to it. It seems though that we are lucky that Stade stayed that way — it is so beautiful, quiet and picturesque. Who knows what would be if Hamburgers were honest back then? Stade today is great for long city walks, admiring the old port, the Northern architecture and windmills. It is also perfect for a Sunday brunch with family or friends, since it has a variety of pretty little cafes.
Travel time: 50 minutes to 1 hour from the main train station by a regional train or an S-Bahn.
3. Ratzeburg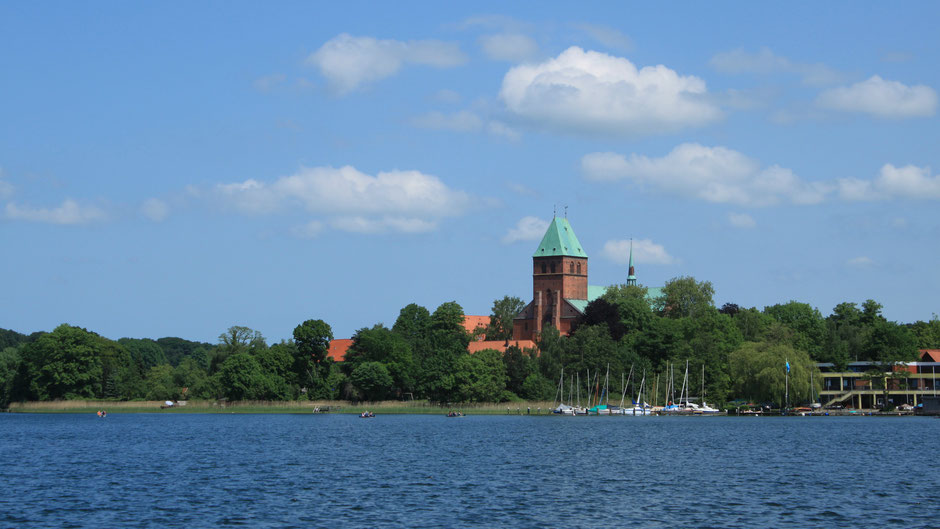 Ratzeburg is famous for its beautiful cathedral located in the middle of the lake. Well, almost. The whole old town of Ratzeburg is located on an island in the middle of the lake. It's not only great for sightseeing, but also is perfect for a day at the beach in summer. Ratzeburg is surrounded by four lakes with clean, fresh and inviting water.
You can easily get there by train, but you if you can, take a car to Ratzeburg and visit another small and cute town on the way — Mölln.
Travel time: 1 hour 20 minutes from the main train station by a regional train and a bus.
4. Mölln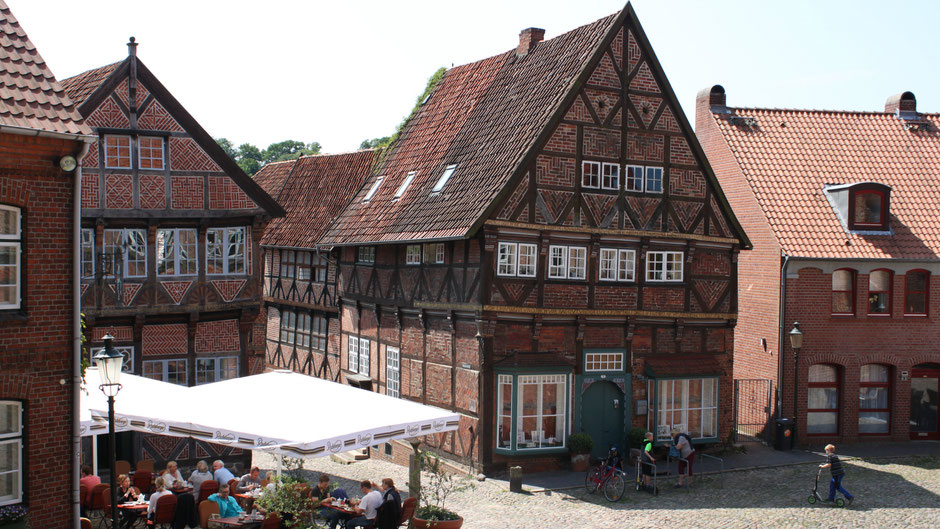 Surrounded by several lakes as well, Mölln is a perfect spot for a great day on the water: swimming, renting a boat or just chilling. Mölln also has a beautiful, very-well preserved old town with traditional houses, cute decoration around them and remarkable doors. If you are a door and window lover like myself, Mölln is a perfect place for a photo safari.
It also has an awesome park and a water tower on the top of the hill. Make sure to pack some delicious foods for a picnic, because Mölln has so many beautiful spots for a lovely day.
Travel time: 1 hour 15 minutes from the main train station by a regional train and a bus.
Historical cities around Hamburg
5. Bremen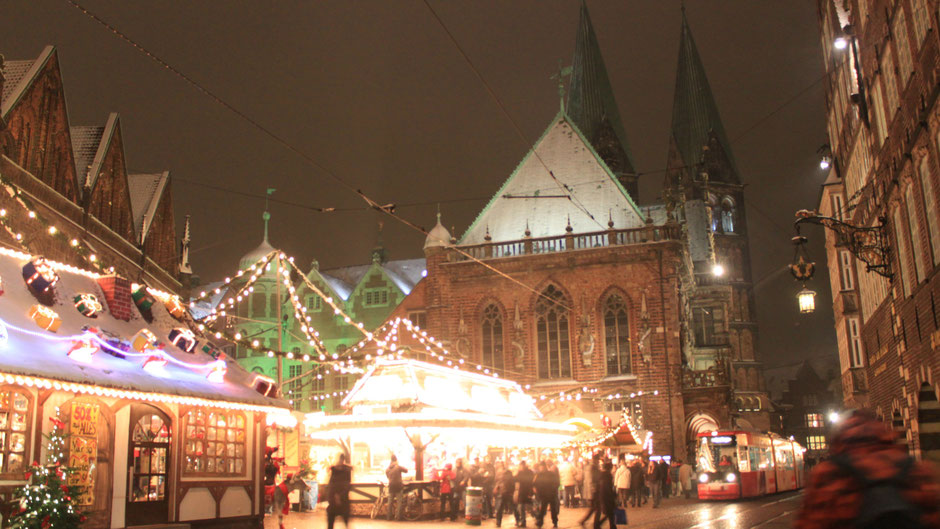 You have probably heard of the famous Town Musicians of Bremen, haven't you? Well, the city of Bremen claims they have really existed! There are a lot of figures of the musical quartet around the city and people love and respect these characters a lot. Not only is Bremen the city from your childhood's fairy tale, but it looks like a fairytale today. It's old town, tales and traditions make it a perfect destination for a one day trip, or even a weekend stay.
Explore the city center, walk along the river Weser, listen to the "glockenspiel" on one of the old narrow streets. Do you want more narrow streets? Explore Schnoor, the oldest and cutest quarter in Bremen, or maybe in the whole Germany. Bremen is beautiful during any season, but to be honest I love it in December the most. In all my years in Germany, the most beautiful Christmas markets I have been to is in Bremen.
Travel time: 1 hour 9 minutes from the main train station by a regional train.
6. Lübeck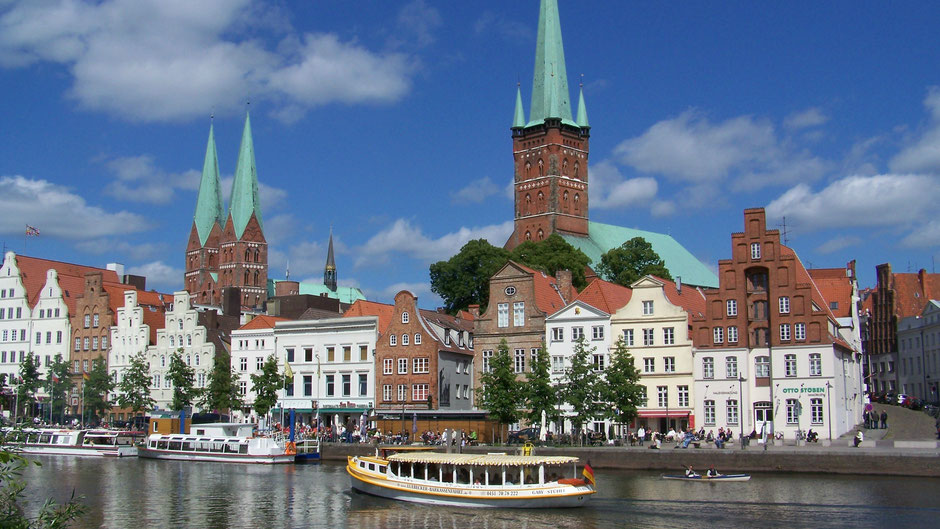 Lübeck is fantastic! It is a beautiful, old hanseatic city, located very close to Hamburg. It is the place where the term "hanseatic" comes from. Lübeck is also the origin place of marzipan, or at least they claim so, as there is an ongoing city rivalry between Lübeck and Tallinn about marzipan.
What's to see in Lübeck? There is a lot to explore, but if you make sure to arrive early, one day might be enough. Make sure to stroll through the old town, check out beautiful buildings and  churches, and, of course he Landmark of the city, the Holstentor. It's impossible to miss when you are coming from the main train station.
The best way to get to Lübeck from Hamburg is by train, in my opinion. Lübeck train station is also where you need to switch for the trains to the Baltic Sea coast.
Travel time: 44 minutes from the main train station by a regional train.
7. Schwerin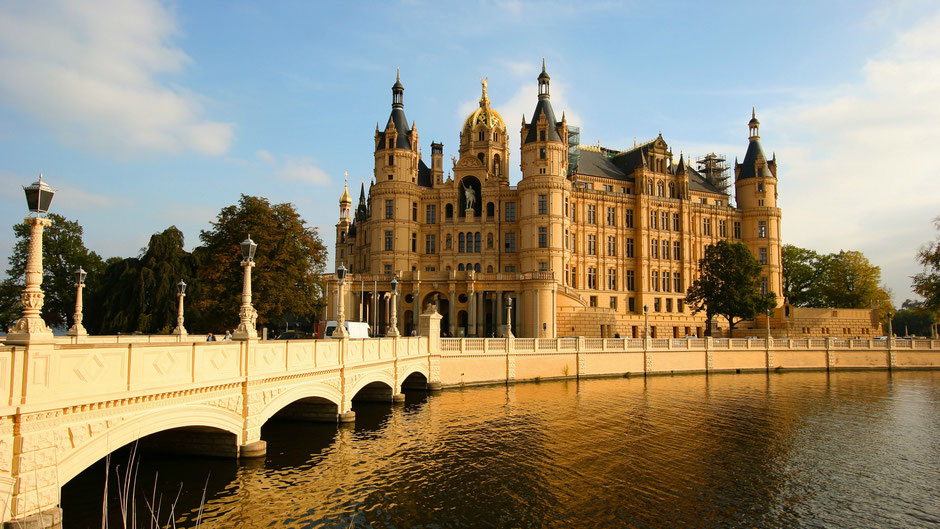 Schwerin is famous for its beautiful castle that is located on an island in the middle of the lake. It will probably also remind you of a romantic fairytale. It's worth a visit at any time of the year: when it's warm you can really enjoy nature and the beautiful architecture, and in winter you can enjoy incredible Christmas markets. Since Schwerin is the capital of the region Mecklenburg-Vorpommern, the main festivals and seasonal activities of the area happen there.
Travel time: 1 hour 25 minutes from the main train station by a regional train.
Nature around Hamburg: trekking, cycling and picnicking.
8. Schaalsee
When I moved to Hamburg, I was horrified: no mountains, no forests — this city is flat. Even though there are beautiful and big parks in the city, I was really missing forests. To my surprise, I found some real forest just 40 minutes away from Hamburg. In addition, a beautiful lake and camping places around it have positively surprised me. Schaalsee is for those who love nature, water sports and long walks.
There is a nice camping on Schaalsee with the possibility to  rent canoes, boards for stand-up paddling and boats. Even though I was there just for a day trip, I consider trying out camping exactly at this place. In case camping is not your thing, there is a youth hostel nearby.
Traveling there: best by car. It takes 40 minutes to 1 hour depending on traffic.
9. Lüneburger Heide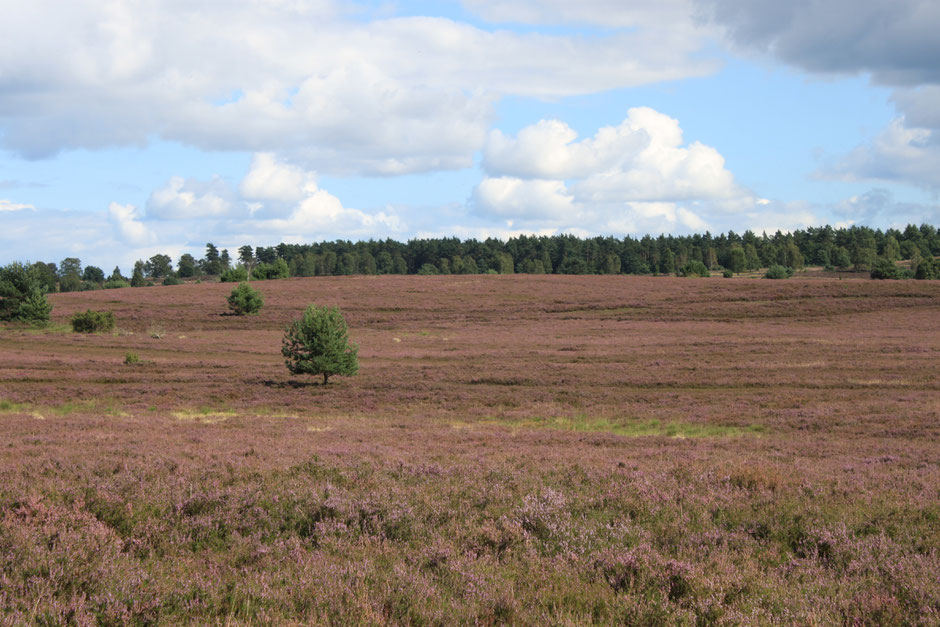 "Lüneburger Heide" (heath) is a one of a kind and is a must when in Northern Germany. It is a natural heritage park that is famous for its unique landscape and extremely unusual blossoms. The time to see the beautiful blossoms is from the beginning of August till the beginning of September. But the "Heide" is amazing at any other time of the year!
I would recommend doing a cycling trip to the "Lüneburger Heide" and seeing as much of it as possible. Walking in the "Heide" is great too, just make sure to wear some comfortable and closed shoes. 
The area is also a popular wellness destination, so in case you want to stay overnight or just drop by for a delicious meal, there are plenty of restaurants and nice hotels there. 
Traveling there: by regional train or by car. It takes approximately 30 minutes to 1 hour, depending on where you want to hop off. Just search for "Lüneburger Heide" on the map and pick a destination to arrive there.
10. Fischbeker Heide
"Fischbeker Heide" is a beautiful natural area very close to Hamburg. You'll find forest there and a typical "Heide" (heath) landscape with no trees and bushes. Also, there is something really special there — an archeological site and a route where you can learn a lot of interesting facts about people who lived on these territories thousands years ago. There are burial places, sites of the former houses and a lot of explanations about the residents.
"Fischbeker Heide" is great for long walks, bike tours and picnics on the nature. Make sure to visit the information center (just follow the signs) to get some insights about current events and learn more about nature in the region.
Traveling there: by the direct bus 250 from Hamburg Altona, or by S3 till Neugraben and then with the bus 250. It takes approximately an hour to get there.
11. Altes Land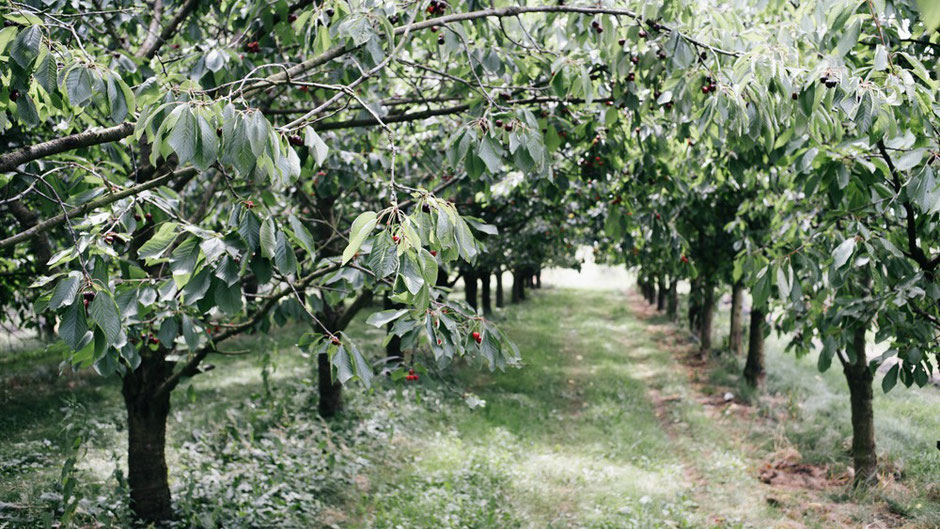 Full of farms, fruit gardens and cozy countryside restaurants along the river Elbe — it's a perfect location for a bike tour with a tasty stop over. Altes Land is great to visit in the warm time of the year: in spring the fruit trees are exploding with blossoms, summer brings the warm sun and the fruits and in autumn it sinks with bright colors. 
As an idea for a day trip: you can go pick up your own cherries or other fruits in one of the farms. The owners are friendly and very helpful, and the main advantage is — while picking the fruits you can eat them as much as you want.
Traveling there: The best way to travel in Altes Land is by bike. You can take a ferry from the Landungsbrücken will Finkenwerder and continue from there. Or you can take an S-Bahn S3 will Buxtehude and cycle into nature. There is also a ferry from from Blankenese to Cranz (Link in German). 
Important: unlike other the other ferries in Hamburg, this route requires additional fee for taking a bicycle and is not included in the Hamburg city ticket on the weekend.
12. Wedel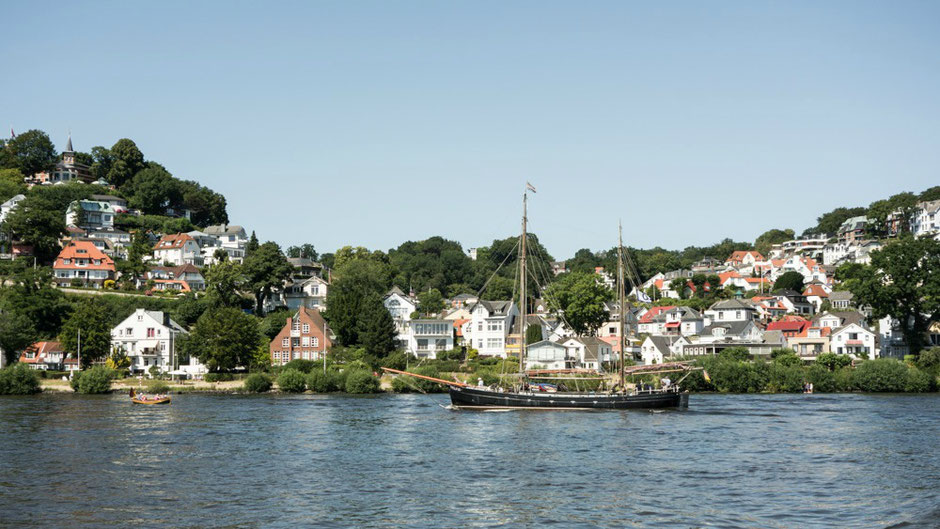 Wedel has a nice platform to watch ships leaving the port of Hamburg. A cafe with a view to the river Elbe and a big green field just in front of it makes it a perfect spot for a sunny day on the river side. Bring your own picnic food and drinks and enjoy the river and passing by ships. If you get bored from sitting around, play a round of mini golf behind the cafe.
Traveling there:  40 minutes by the S-Bahn S1 from the main train station.
Going to the beach: seaside near Hamburg
Living in Hamburg is great, because you are closely located to two seas: North Sea and Baltic Sea. You can easily hop on the train and be on a beach in one and a half hours or so.
13. Baltic Sea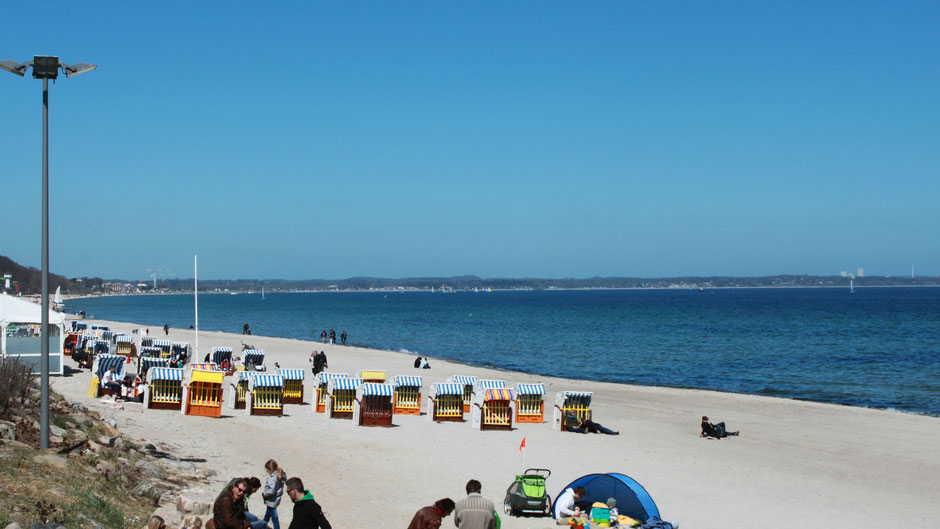 Beautiful and usually calm Baltic Sea is a great spot to swim in salty water and stretch in the sun. Even better: the two most favourite beaches are located really close to Hamburg and are easily reachable by regular trains. The bad news is that to access most of the beaches you have to pay. It's important to say though that the beaches are clean and taken care of.
If you don't want to pay accessing the water, you can either walk a bit longer along the coast line or cycle to the wild beaches. I personally would go for cycling, because you can go far with a bike and discover some really beautiful bays and natural areas. Attention: you need to have a separate ticket for your bicycle in the train.
Traveling there: by a regional train from the main train station. It takes around 1 hour 20 minutes to get to Travemünde-Strand or to Timmendorferstrand. 
14. North Sea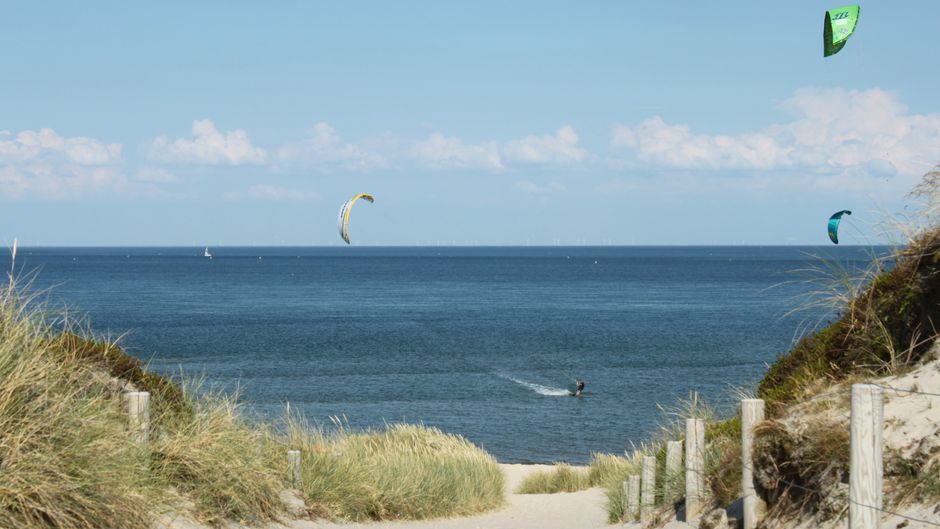 North Sea is loved by Northern people of Hamburg. The strong winds and rough nature of the region is not for everyone, but I do recommend you to go there and make your own impression. The North Sea is really wild and very different from the Baltic Sea. Because of the tides that happen twice per day, you can go deep into the mud, where the water used to be just some hours ago. If you want to walk far into the mud, make sure to have proper shoes and an experienced guide. The North Sea can be dangerous when its waters come back to the coast.
Where to go? You can go to the area around Cuxhaven, Husum or one of the beautiful islands: Sylt, Amrum or Föhr. It is easy to do a day trip by car or by train, but I would recommend to stay overnight and watch the sunset on a beach. It is so romantic and beautiful.
Traveling there: by a regional train from the main train station or by a car. It takes from 2 to 3 hours 30 minutes depending on where you want to go.
15. Helgoland
Helgoland is a German island in the North Sea, located 46 km off the coastline. The island has beautiful nature and wonderful views. It's a popular resort destination and sometimes people stay there longer than just a day. However, the majority of the tourists come there in the morning and leave in the evening. The island has a lot of duty free shops, because it has a tax-exempt status. 
My other Hamburg-related blog-posts that you might like:
---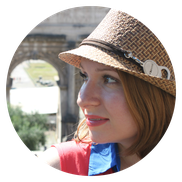 Hi, I am Maria, blogger and founder of Globalmary.com.
I was born and grew up in Russia, studied in Sweden and now live in Hamburg, my most favorite city in Germany. I travel a lot and write about places I've been to. I share my best travel tips and experience about what it means to live a global life!
---
Did you like this article? Share it!